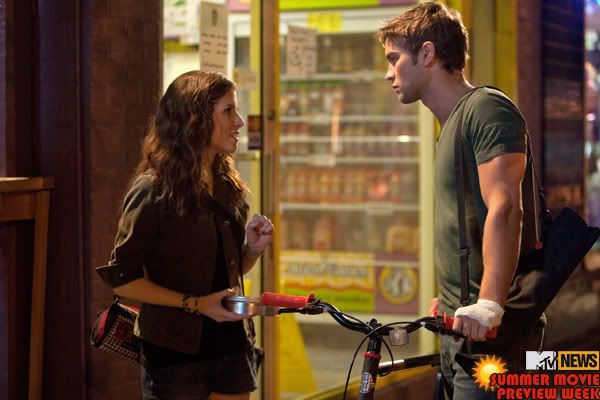 Anna Kendrick is a very lucky lady.
Not only did the Oscar-nominated Twilight star, 26, get to lock lips with Gossip Girl star
Chace Crawford,
26, in the soon-to-be released What to Expect When You're Expecting, but…
She also got it on with Jake Gyllenhaal, 31, in the upcoming police drama End of Watch.
"Not bad," Kendrick says of her hot costars.
"Anna Kendrick's doing OK. I'm nailing it."
Careful with your wording, Ms. Kendrick!
Anyhoo, she says things got unusually comfortable with Gyllenhaal—so much so, you may have thought they'd become a real-life couple.
"We were shooting [End of Watch] on tiny cameras with very little lighting and a very small crew. There was a lot of improv,"
Kendrick said.
"It felt incredibly intimate. You're in character all the time because you're shooting all the time. So Jake and I would be holding hands and suddenly we'd be like, 'Oh, we're not filming.'"
Ask her just how steamy things got with Jakey and Kendrick begins to giggle.
"Oh, my goodness—I'm actually blushing," she said. "Yeah, it gets all sexy time with us."
RELATED: We're Livestreaming the What to Expect When You're Expecting Premiere—Only on E! Online!
As for Mr. Crawford, sounds like he had
Kendrick
at hello.
"He's scary handsome," she gushed. "When I first met him, I felt like I shouldn't look him in the eye. It's like he was a wild animal."
And speaking of wild things,
Kendrick said she can't wait to see part two of Breaking Dawn—especially Kristen Stewart's total bloodsucker transformation. "I'm bummed that I'm in the one where we're all just waiting for her to turn into a vampire," she said. "But it's going to be great. Kristen is going to be a f--king superhero!"
PS: What to Expect When You're Expecting has not inspired Kendrick to become a mom.
"I think if babies liked me, I might be more into babies," she said. "I really don't think they do. I think they sense my fear."
eonline