Snow White and the Huntsman's Official Facebook page have announced the
"Snow White and the Huntsman Costume Inspiration Challenge on Pinterest
!"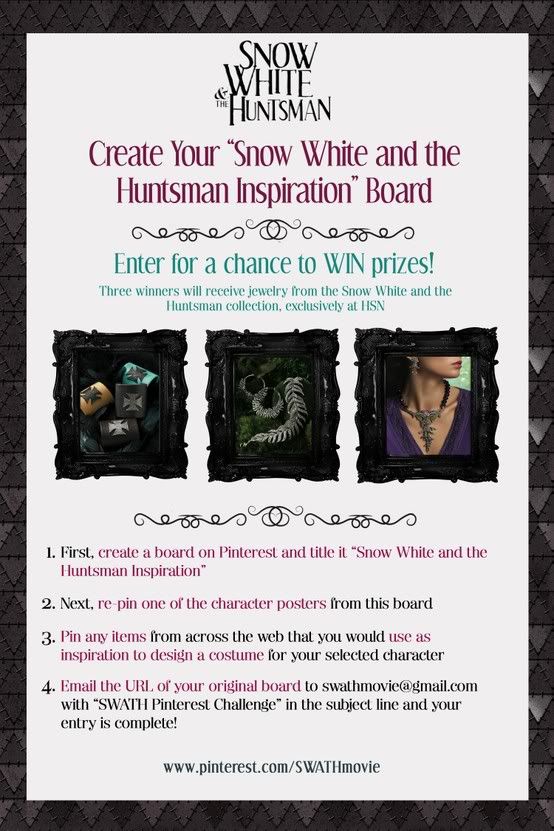 "We're excited to announce our
Snow White and the Huntsman Costume Inspiration Challenge on Pinterest
!
All you have to do is head on over to
http://www.pinterest.com/SWATHmovie
and
create a virtual pin board featuring images YOU would use as inspiration
for the costume designs for your favorite SWATH character!
Start pinning now for a chance to win amazing jewelry pieces
from the Snow White and the Huntsman Collection, exclusively at HSN."
RULES:
Official Rules:
Sponsor is not responsible for lost, late or misdirected form entries; computer malfunctions, including but not limited to any error, omission, interruption, deletion, defect, delay in operation or transmission or communications line failure. Form entries that contain errors, are incomplete, corrupted or illegible will not be accepted. Sponsor reserves the right to disqualify entries from anyone tampering with the form entry process.
HOW TO ENTER
The contest begins at
10:00 AM EST on May 15 and ends at 9:59 AM EST on June 4, 2012
("Promotion Period"). Create a board on Pinterest and title it "Snow White and the Huntsman Inspiration." Re-pin a character poster from pinterest.com/SWATHmovie. Pin items from across the web that you would use as inspiration for your character's costume designs. Email the URL of your original board to swathmovie@gmail.com with SWATH Pinterest Challenge in the subject line. Users may submit as many boards as they like.
ELIGIBILITY
This contest is open to legal residents of the United States (excluding Puerto Rico) over the age of 13 at time of entry. All federal, state, and local regulations apply. Void where prohibited. Employees of Universal Pictures, its parent, subsidiaries, affiliates, suppliers, and agencies, and their immediate family members and persons living in their household are not eligible to enter this contest.
WINNER SELECTION
Submissions will be judged by employees at Universal Pictures based on the following criteria: 20% - Accuracy of their board & pins, i.e. meeting all requirements; 40% - Visual Appeal and Creativity of the board & pins; 40% - Inspiration, i.e. how the pin selection best represents a look for their selected character. Sponsor will notify Winners by email.
All entries submitted during the Promotion Period are eligible. One (1) weekly winner will be chosen based on the above judging criteria during each of the following Draw Times, for a total of three (3) winners:
Draw #1 Start at 10:00 a.m. EST May 15, 2012. End May 21, 2012 at 9:59 a.m. EST
Draw #2 Start at 10:00 a.m. EST May 22, 2012. End May 28, 2012 at 9:59 a.m. EST
Draw #3 Start at 10:00 a.m. EST May 29, 2012. End June 4, 2012 at 9:59 a.m. EST
PRIZING
Total of three (3) contestants will win. Prizing breakdown is as follows:
Drawing #1, one (1) winner will receive one (1) Love & Rock by Loree Rodkin Maltese Cross Cuff Bracelet (retail value $69.95)
Drawing #2, one (1) winner will receive one (1) Love & Rock by Loree Rodkin Pave Feather Drop Earrings and one (1) Pave Feather Bracelet (retail value $189.90)
Drawing #3, one (1) winner will receive one (1) Heidi Daus The Rare Beauty Necklace and one (1) pair of The Rare Beauty Earrings (retail value $309.95)
Total prizing value for the contest is $569.80.
WINNER LIST
For the name of the Winners, send a stamped, self-addressed envelope to Snow White and the Huntsman Pinterest Challenge, attn: Director, Digital Marketing, Universal Pictures, 100 Universal City Plaza Bldg. 2160, 8H Universal City, CA 91608
GENERAL CONDITIONS
By participating in this contest, entrants agree to abide by these official rules. Sponsor is not responsible for injury or damage to any computer, other equipment, or person relating to or resulting from participation in the contest. Entrants release Sponsor, its agencies, and assigns from any liability, damage and/or loss resulting from participating in this contest and/or the acceptance, use or misuse of the prize. Acceptance of the prize constitutes permission for Sponsor to publish, post online, or otherwise refer to the name of the winner in any and all forms and media throughout the world, and for any and all publicity or promotional purposes, without obligation or compensation, except where prohibited by law.
Check out
SWATH Pinterest Challenge
and enter for a chance to win!
Source