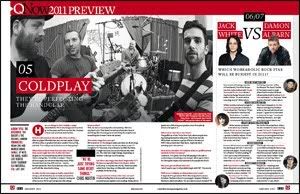 From source:
gigwise
Coldplay have compared being asked to play Glastonbury to Twilight actor Robert Pattinson inviting you to touch his balls.
The band, who last topped the bill at the festival in 2005, are one of a number of acts rumoured to be headlining the event in Somerset next June.
But in an interview with Q magazine, singer Chris Martin played down the reports and said it "depends if we get asked".
He added: "That's like getting asked to dance by Robert Pattinson if you're a young girl. Imagine if Robert Pattinson called and asked, 'Do you want to touch my balls?'."
Source: via
PattinsonLife
via
RPLife
via
RPattzScene