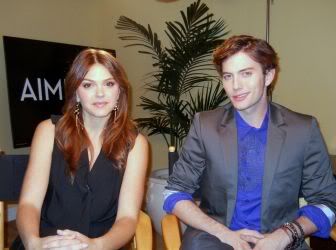 TeenTV is in a famous hotel right off Rodeo Drive to chat with the hot stars of the high school "spy" web series "Aim High". The show has a great pedigree. It's produced by action-meister McG of the Charlie's Angels films and stars Twilight's Jasper, cute Jackson Rathbone with Prom's Aimee Teegarden as the object of his desire.
On entering the interview room we are drawn to Jackson's bright, trendy cobalt blue shirt which totally matches Aimee's bright blue heels. She's in black and he's in grey. Their stylist has a great coordination gene. The two have been doing TV interviews and the hairdresser is primping up Jackson's "do". We comment on his shirt.
Jackson: I really love this shirt.
TeenTV: You guys have been here all day and I'll bet you're tired.
Jackson: Yeah, but I like this hotel (the famous Beverly Wilshire where the classic film Pretty Woman was shot). I'm staying here tonight. I'm gonna go around asking random people if they want to ask me questions.
TeenTV: How will teens get to interact with the show on Facebook and what will appear on screen when they do it?
Jackson: You can watch it from your Facebook account and then your pictures and profiles and writing on your "wall" will appear in the foreground or background. If you want to watch it without that aspect, you can. Your "graffiti" could be on the wall or pictures of friends and family can be in posters. . But, if you personalize it and then watch it on your friend's computer, it'll look different. I want to watch it on my mom's Facebook account. I want to see my mom in it! "Mom! You're on TV! Look!" She doesn't know about it yet. I'm gonna call her.
TeenTV: Nick is a nerd on the surface but a real, cool killer underneath. Is that a difficult balance for you as an actor or do you feel he's still nerdy even when he's on a mission?
Aimee Teegarden in "Aim High."
Jackson: I think he's still kinda nerdy when on a mission. He's cracking jokes constantly. He's like "whatever" and the jokes are awkward. He's telling a Russian mercenary "We should get together and have some borscht". It's fun. He's just that geeky. I like to describe Nick Green as "adorkable" (Aimee rolls her eyes and laughs).
TeenTV: Awwww. Okay, Aimee, you say you aren't musical but Jackson, you have a band. Did you do any music for "Aim High"?
Jackson: I do have a band (100 Monkeys) and we wrote a song called "Aim High' as a promotion for the show. Whenever I was on tour, I could promote the show with it.
TeenTV: But your character Nick isn't gonna bust into song in the show's second season?
Jackson: No. Well, maybe Nick will be "Hey, I'm a bassist now and I wanna be in your band!" but don't think so.
TeenTV: Jackson, when you do start press for Breaking Dawn?
Jackson: I feel like I'm already doing it.
Read More : teentelevision.com