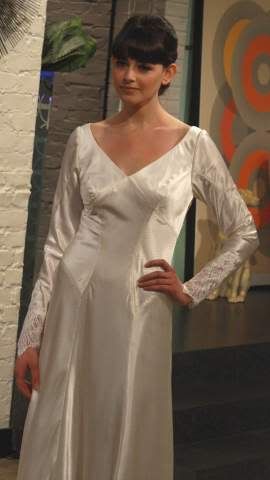 Alfred Angelo has made a significantly less expensive version of the character's gown, priced at $799.
The Carolina Herrera gown worn in the movie took six months to make and was handmade by four seamstresses. The original stunning dress is made from crepe satin with French Chantilly lace with 152 buttons that line the entire back. It is estimated to be worth $35,000.
"I wanted to create a magical moment that they had at the wedding," Herrera told Reuters last week when asked about Bella's gown. "She's an innocent girl that is finding her first true love, so there is romance, there is magic, there is everything together."
Alfred Angelo's version is made from satin sheath with lace applique with 126 buttons. The dress will fit women of a variety of sizes, ranging from 0 to 18.
Celebrity stylist Joey Tierney, who appeared on Tuesday's Access Hollywood Live, told Billy Bush and Kit Hoover, "It's for every woman. Everybody can be Bella. The waist is very slimming, the way they designed it. It's classy."
Alfred Angelo also created replicas of Bella's bridesmaids' dresses – a possible option for prom too – available in purple and lavender and priced at $189.
"The Twilight Saga: Breaking Dawn - Part 1" was a massive success at the box office, thanks to the big wedding scene between Edward Cullen and Bella Swan. Celebrity stylist Joey Tierney stopped by Access Hollywood Live to give an inside look at how the gorgeous dress was made. To get the dress for an affordable price, go to www.alfredangelo.com, and to find out more about how the dress was crafted pick up the new People magazine.
AH