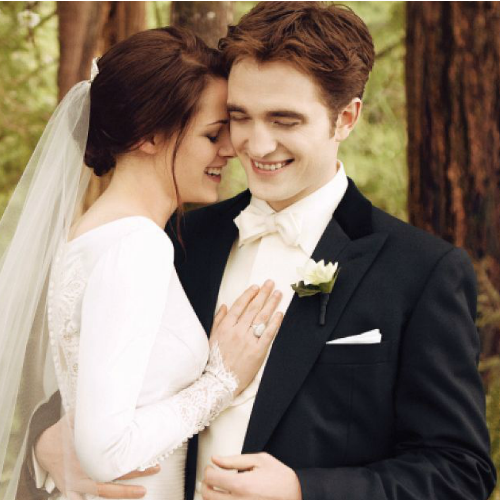 Before you know it, February 11 will be here, and you'll be able to own your own copy of "The Twilight Saga: Breaking Dawn- Part 1" on DVD, meaning you can watch and re-watch that epic wedding scene over and over and over again. And if you can't get that fabulous $35,000 Carolina Herrera-designed nuptial gown out of your mind, take solace in the fact that you're not the only one. In the upcoming issue of Town & Country Weddings (via People), the designer recalled star Kristen Stewart's wowed response to the frock.
"We did three fittings. When she initially put on the dress and looked over her shoulder into the mirror, she was very moved," Carolina said. "In that moment she was not an actress or a character in a film but instead a bride, and a happy one at that."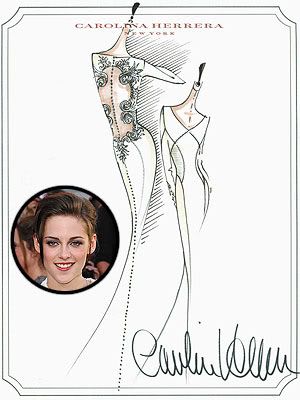 That pricey and pretty dress, Carolina said, is a "union between Stephenie [Meyer's] description in the book and the Herrera bridal aesthetic." And when she went in to design the much-discussed garb, she wanted to embody all of Bella's bridely hopes and dreams in it.
"I took into consideration the character of Bella and Kristen's portrayal of her, and what this fantasy character would choose to wear for the most important day of her life," she explained. "It's made of a crepe satin with two inserts on the front and beautiful silk thread topstitching. The neckline is a slight V, just enough to see the collarbones. The back is oval-shaped, with a Chantilly lace border veiled in tulle. It's very romantic, and when all the details come together, it creates a vision specific to Bella's style and personality."
Mtv