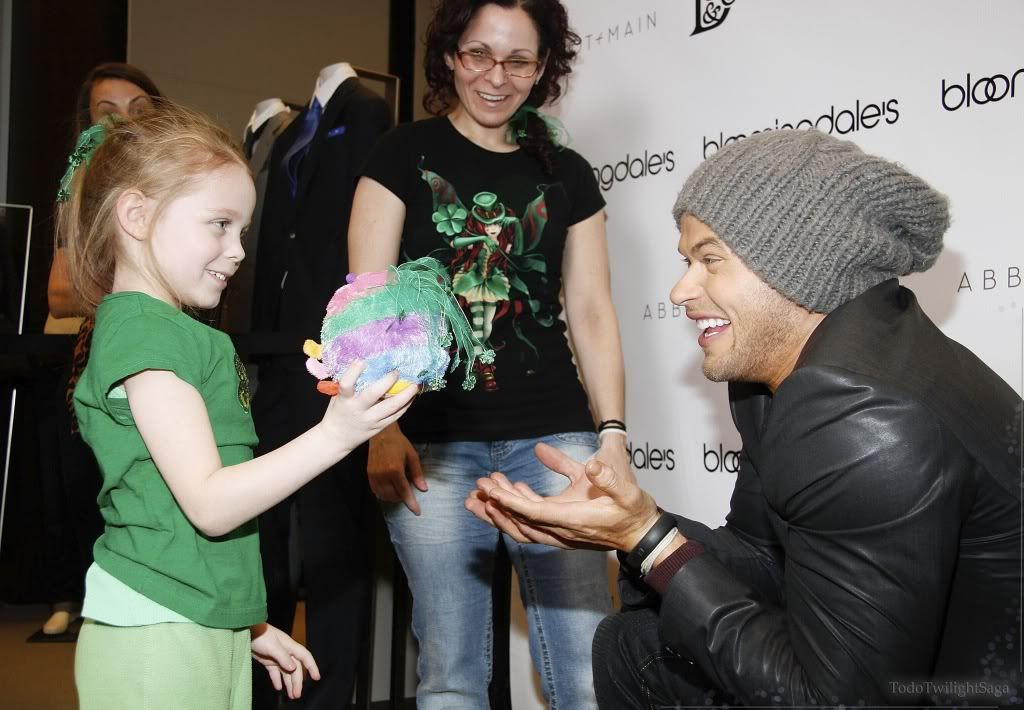 Kellan Lutz on Becoming a Designer, Vampire K-Stew, and Why He'll "Definitely" See The Hunger Games - Exclusive
wetpaint.
It's official: Kellan Lutz is a triple threat. As if he weren't busy enough, the actor and model has just taken on yet another role: fashion designer. He co-created the Spring 2012 collection for the clothing line Dylan George and Abbot + Main, which he proudly launched at Bloomingdales in Garden City, Long Island, this past weekend. He talked to Wetpaint Entertainment about his inspiration for the clothes and answered a few of our burning questions about
Breaking Dawn Part 2.
Wetpaint Entertainment: What made you want to design a collection?Kellan Lutz:
Growing up in the modeling industry, I've always been closely connected to the fashion world. When I was living on the cross streets of Abbot Kinney & Main Street, where the name of the line comes from, I was surrounded by all types of people, cultures, and colors and I wanted to share that with others in the line. I guess you could say I wanted to bring my home in Venice Beach to life.
You model, act, and now you design. Which do you like to do the best?
Well I started as a model, moved into acting, and now I've returned back to the fashion world. I'm not sure I can pick a favorite, but I can say I love being creative and finding different avenues to explore it.
What's the difference between your personal style and Emmet Cullen's style?
There's definitely some crossover with Emmett's style. He's the most athletic Cullen and he tends to keep it casual with rich, comfortable sweaters and Henleys — all of which I personally like to wear as well.
The world just got its first look at Kristen Stewart as a vampire. Was it weird filming with her once she made the transition? Did she act different?
Kristen makes an amazing vampire! She brought so much life to her human portrayal of Bella and even more when she transitioned into Bella the vampire. She seemed to enjoy being a vampire like all of us do. I really enjoyed shooting Emmett and Bella's arm-wrestling scene!
You and Ashley Greene play lovers in your new movieWarriors. After playing her brother for so long, what was it like to play her love interest?
Acting is acting… It was a blessing to have Ashley play my love interest. It's so nice to have someone to act with who you're already close to. We've been friends for years, so it made it feel like a hangout session.
Who else from the Cullen family do you keep in touch with when you're not doing press or premieres?
I try to hang out and keep in touch with everyone. Naturally you get closer with the people you work most with, like the Cullen family. I hope I get to work with everyone again in the future in some way shape or form.
Will you go see The Hunger Games?
I loved the books, the concept, and everyone involved. I have some friends in the film and know a bunch of the producers so I definitely will see it. It looks great!
It was fun. It's all about personality and both Kate Upton and Anne V, who I worked with on the first campaign, shine with their personality and they know how to model and sell product. It was really great working with Kate and I'm happy she got the cover of Sports Illustrated. She definitely deserves it: she's a beautiful woman and really fun to work with.
That must have been a tough day at the office...
Well, I'm very lucky. I think we're going to launch the campaign that Kate was in in May so look out for that...
Henry Cavill was in our 50 Best-Dressed Men list. Did you talk about clothes at all?
No we didn't - when we were shooting Immortals all of us were hanging out topless. It was really all just going to the gym. Henry's a very well-dressed man. I'm happy for him and I can't wait to see him in Superman. We had a laugh working together.

What TV do you never miss?
I watch whatever is on my roommate's Tivo because I don't really have time to watch TV. But I'm very much into shows like Breaking Bad and American Horror Story. But then of course I love my guilty pleasures like The People's Court, Cheaters, 20 Most Shocking andAmerica's Funniest Home Videos... I love those shows where you can just tune out and relax.
What's a Kellan Lutz groupie like?
Well, originally in the first few years they were quite hysterical and would scream and yell and call me me Emmett. Throughout the years though, you make friends with them. Now I have friends throughout the world who I see from time to time at different events, conventions and outings; every time I do a talk show in New York, a lot of them come out from wherever they are in the world. You know them by name and you have a chat with them and really build a relationship. I probably have more friends from Twilight than I've ever had in my whole life.
Do you get many strange gifts from fans?
I do. I even get gifts for my dogs. This group of Twi-moms that I know from Philadelphia, they send me and my roommates and even my dogs stockings with presents. The dogs' stockings have all these chew toys and even letters that we'll read to the dogs from them.
Do you get many marriage proposals?
Two or three a day. It's sweet. I don't think anyone's really truly 100 per cent looking to propose but when they do send messages like that... they make you smile.
Via KLOnline