(SWEDISH TRANSLATION UNDER THE CUT)
Anna Kendrick (oscar nominated for Up in the Air) is a genius. Yes truly a genius, she always picks the perfect parts to suit her so incredibly good. She is serious, she is funny, she is catchy and who can't simply love her performances on the big (or small) screen.
I truly liked her wits in both 'Twilight' and 'Up in the Air' and I was really excited today as I went to the pre screening of the movie "Pitch Perfect".
An almost two hour long high school (college) musical comedy about the world of a group of college students singing acapella. Becca (Anna Kendrick) is a troubled teenager who really doesn't want to go to college but instead wants to go to LA to produce her own music. But when her father tells her he will personally pay for a move if she just gives college a chance for a year she decides to go full on.
It's a fun, quick, feelgood movie which had me smiling all through and left me wanting to see it again.
Pitch Perfect isn't however an all "high school" movie, you don't have the exaggerated sex, party, drunk awkward scenes. So if you hate those you can still enjoy this one. But yes, there is also love!
We are treated to beautiful singing acts and a fabolous performance by Anna Kendrick. I can't wait to see what the future holds for her!
I truly recommend this movie.
Pitch Perfect opens in cineams in Sweden on February 8, 2013
Courtesy to UPI Media- Universal Pictures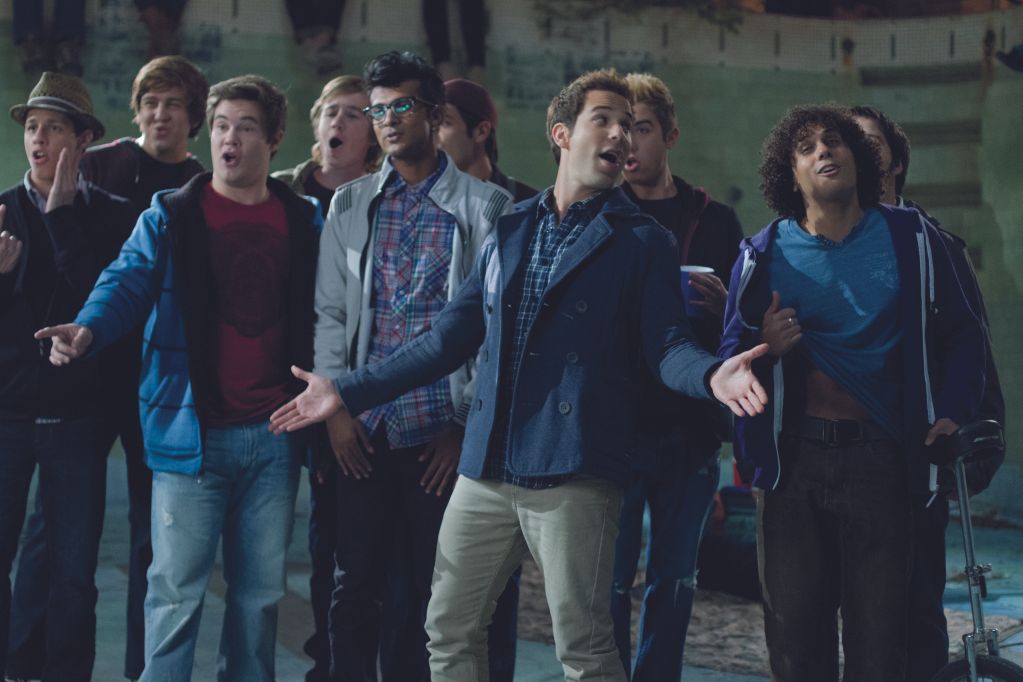 Anna Kendrick är ett geni. Ja, verkligen ett geni. Hon lyckas alltid välja de rollerna som passar henne som handen i handsken. Hon är allvarlig, hon rolig, hon är cool och vem kan inte bara älska hennes prestationer på den stora (eller lilla) skärmen.
Jag gillade verkligen hennes kvicka roliga intelligens i både "Twilight" och "Up in the Air" och jag var verkligen förväntansfull idag när jag gick och såg en pre screening av filmen "Pitch Perfect".
Becca (​​Anna Kendrick) är en otålig tonåring som verkligen inte vill gå i skolan utan vill flytta till LA för att producera sin egen musik. Men när hennes far talar om för henne att han personligen kommer att betala för en flytt om hon bara ger college en chans i minst ett år, bestämmer hon sig för att gå helt in. Hon ger sig in i världen av acapella sång.
Det är en musikalkomedi på nästan två timmar och där vi får följa det sjönsjungande gänget genom deras upp och nedgångar, utmaningar och motgångar och allt i en härlig musik fylld miljö.
Det är en rolig, snabb, feelgood film som fick mig att sitta leende genom hela filmen och fick mig att vilja se den igen,
Pitch Perfect är inte som andra överdrivna high school filmer utan den är riktigt härlig. Full med humor, värme och grymma sångnummer och ett fantastiskt bidrag av Anna Kendrick. Det ska bli spännande att se vad framtiden kommer föra med sig för henne.
Jag rekommenderar verkligen den här filmen.
(
1998 nominerades Kendrick som näst yngsta person någonsin till en
Tony Award
för sin medverkan i
Broadwayuppsättningen
av musikalen
High Society
.
2010
blev Kendrick nominerad till en Oscar i kategorin "Bästa kvinnliga biroll", för sin roll som
Natalie Keener
i filmen
Up in the Air
där hon bland annat spelar mot
George Clooney
.)
Pitch Perfect går upp på bio i Sverige den 8 februari, 2013