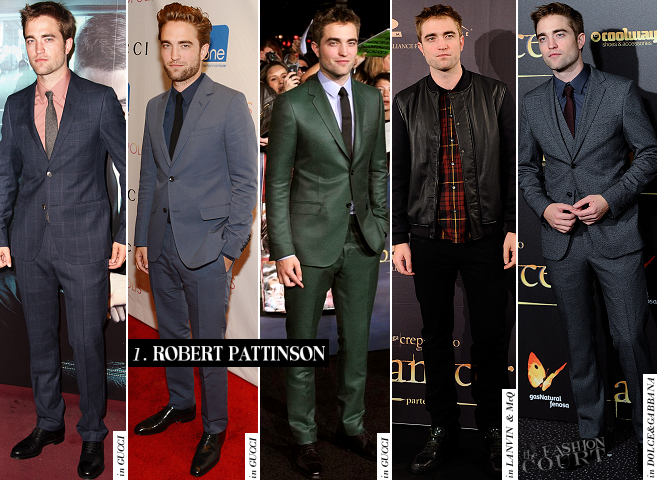 1. Robert Pattinson
Never have I been so confident in my top choice of a stylish star as I am with Robert Pattinson. While many have focused on the ladies of the year, it was this English actor who stood out the most to me. Last year when Robert was the runner up to Ryan Gosling's #1 spot

under my "Male Suspects" category, I mentioned that I wanted him to take chances with his suits like 'The Gos' did. In 2012 Mr. Pattinson did just that—and he soared.
It's funny, looking back at when he broke out onto the Hollywood scene with the first "Twilight" in 2008

wearing suits that didn't fit,wrinkled shirts

and an excessive amount of hair product—unless it was just unwashed—I still saw such potential. It was a slow build, but with every year, we've seen Rob grow into the little fashion maven he's becoming.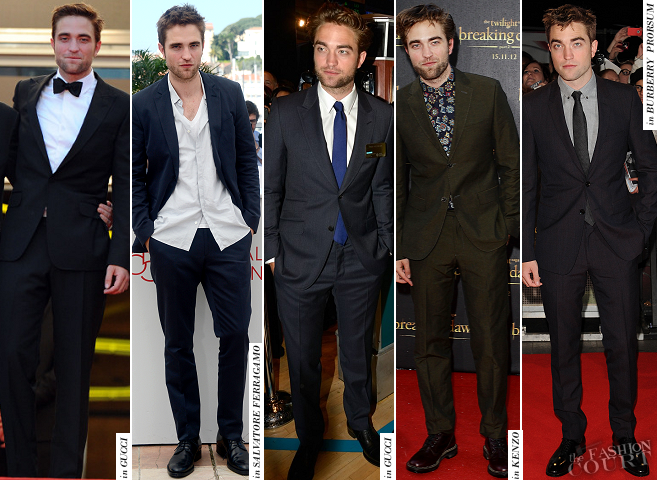 This year he hit carpet after carpet to promote films like

"Bel Ami",

"Cosmopolis"

and, of course, the final Twi-installment"Breaking Dawn: Part 2″, and he did so with such dashing elegance, bold choices …and bright color. His relationship with

Gucciproduced

a major movie star bow-tie look

at Cannes, a

salmon shirt-and-matching plaid suit, nearly

head-to-toe monaco blueand the moment of all moments: his custom

emerald green micro-houndstooth suit

at the BD2 premiere, which he helped design. You don't even need to be a longtime reader of this site to know how excited I was over that one.
Although Robert turned to

classic black

for some appearances, they were few and far between. He just needed time to build up to his expressive looks—like

that vivid printed medallion shirt. Even his casual ensembles

at photocalls

consisting of leather combo jackets, tartan shirts and high-designer sneakers were something to take note of. In fact, I think it might just been inspiring

his street wear

to make

a fun improvement

as well.
With rumors swirling that he's signed with

Dior

for an upcoming campaign in addition to five new movies in the works, I think we have a lot to look forward to in 2013 where Robert is concerned.
2. Kristen Stewart
Kristen nabs the runner-up spot as the most stylish star of 2012 for The Fashion Court, because let's face it—this was her year. In the past, the 22-year-old has been ridiculed for her constant mini dresses, "boring" pumps and repeated "bed head" hairstyle, but I think it was clear over the last twelve months that Kristen broke out of that box she was placed in.
Three major movie press tours and trips to prestigious film festivals

like Cannes

gave her the opportunity to attempt different looks—and she took advantage of that. For once you couldn't predict what she was going to wear when Kristen hit the red carpet in

feminine floral lace, a

funky checkerboard playsuit,

belly-baring tops

and high waist trousers, structured blazers, midi skirts,show-stopping skeleton gowns, and

fluorescent frocks

with prints heels,

sheer creations

and

one very bold sequin jumpsuit. As for her famous mane; Kristen experimented with

braided faux-hawks, bouncy

ponytails, super sleek pinned 'dos, and an array oftwisted, tousled,

tucked

and rolled styles—some of which I had never seen done before.
She took a step fashion-forward and that included signing on as the face of

Balenciaga's

latest fragrance "Florabontica", which found her

front row

at Paris Fashion Week

twice

and another invite

at the annual Metropolitan Museum of Art Gala, this time as the date of then-Creative Director Nicolas Ghesquière.
I'm not going to say that Kristen didn't have wardrobe slip-ups,

because she did. Then again, everyone on this list did. The fact is that she took a chance, and more often than not, those risks paid off. If there was ever a time for Kristen to be noticed for her wardrobe choices, it's here and now. Confident and comfortable, Kristen finally grew into her own.