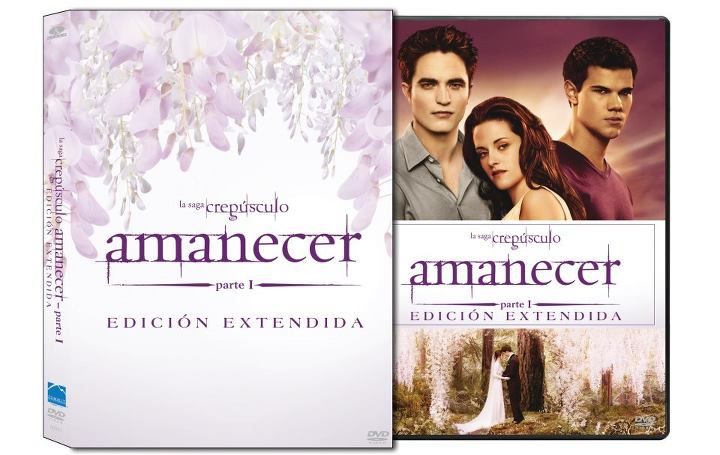 The Twilight Saga: Breaking Dawn (Part I)
, will have an
extended edition
on DVD and Blu-ray, which will
be released on March 2, 2013
.
"Forever is just the beginning" and our Lovers, the franchise of The Twilight Saga, continues forever on DVD and Blu Ray.
Unconditional lovers of the hit franchise you can enjoy
eight minutes of never seen
in a new edition of 'The Twilight Saga: Breaking Dawn - Part 1' which will released on March 2, 2013.
The Twilight Saga: Breaking Dawn (Part I), the first of a two-part adaptation, directed by Bill Condon (Dreamgirls, Gods and Monsters) from a screenplay by Melissa Rosenberg, based on the novel Breaking Dawn by Stephenie Meyer.
Kristen Stewart, Robert Pattinson and Taylor Lautner are the main protagonists.
In The Twilight Saga: Breaking Dawn (Part I), Bella (Kristen Stewart) and Edward (Robert Pattinson), along with their loved ones, will have to deal with the chain of events caused by their elaborate nuptials, a romantic honeymoon and the tumultuous birth of their first child ...
it brings an unexpected and surprising result for Jacob Black (Taylor Lautner).
Director Bill Condon, thinking unconditional "Twilighters", brings
new scenes throughout the film
(with optional audio commentary).
This
footage
is
unprecedented
, never before seen in the theatrical version.
On 2 March, is complete and new edition will be available in both DVD and BLU-RAY.
Via
lasagarobsten
Source:
aurump