celebrity-gossip Kristen's "personal rock-chick style" put her above runner-up Emma Watson and Duchess of Cambridge Kate Middleton, who came in third.
UkYahoo The Twilight star, who topped Glamour magazine's fashion top 50, was praised for her "personal rock-chick style".
She also picked up the honour of being named in the best-dressed couple with boyfriend Robert Pattinson who was named best-dressed man.

The top 25 Best Dressed Women of 2013 are:
1. Kristen Stewart
2. Emma Watson
3. The Duchess of Cambridge
4. Emma Stone
5. Taylor Swift
6. Victoria Beckham
7. Cheryl Cole
8. Blake Lively
9. Katy Perry
10. Beyonce
11. Olivia Palermo
12. Zooey Deschanel
13. Mila Kunis
14. Angelina Jolie
15. Pippa Middleton
16. Jennifer Aniston
17. Jessie J
18. Reese Witherspoon
19. Lea Michele
20. Ashley Greene
*Note Glamour's 50 Best-Dressed Women of 2013 appears in the June issue of the magazine out on May 6th
Update 2 Tnxs Scans
@StewNews411
Via
LSR
glamourmagazine.co.uk
1. Kristen Stewart Non-mover And she does it again. Go-to gown? Not this girl. Red-carpet dressing means everything from leather trews to shorts and all-in-one lace jumpsuits for the ever-cool K-Stew. Whether in Zuhair Murad or Balenciaga, every looks comes complete with a nod to her personal rock-chick style. What a year!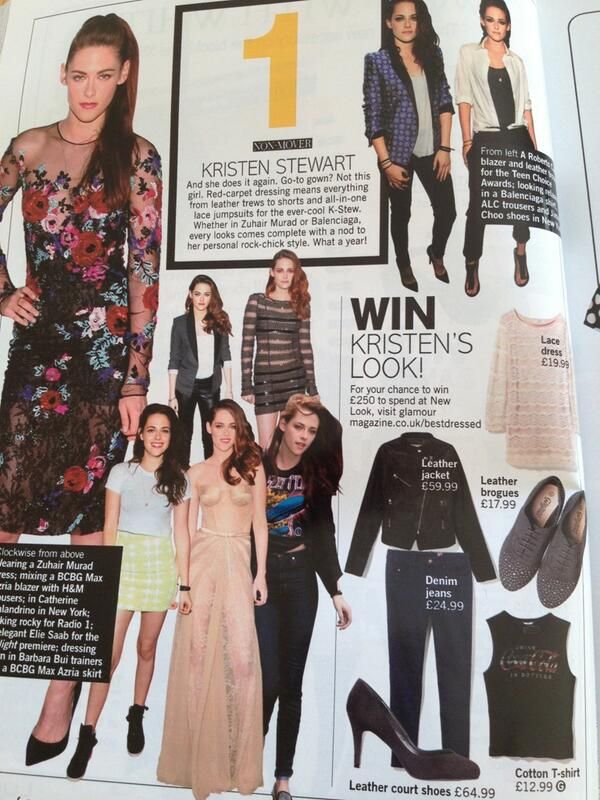 From: Daily Mail /Uk