Met Ball 2013 Makeup: Kristen Stewart
BBJ
Makeup maestro Beau Nelson created this dramatic makeup effect in beautiful burgundies for Kristen Stewart. Says Nelson, "I wanted to create a dark punk shape to the eye, but give it some edgy elegance by working in reds, burgundies and blacks. The look came together beautifully with the deep burgundy jumpsuit Kristen wore." Here's how to get the look. All tips at source. via
kstewartnews
nymag
The Best Non-Black Eye Makeup at the Met Gala
Kristen Stewart's makeup artist, Beau Nelson, went the matchy-matchy route with lids awash in a diffused blood red. While still elegant, the conjunctivitis-y color has a "fuck off" vibe to it. The scowl helps.
femalefirst
I found myself falling in love with Kristen Stewart's head-to-toe burgundy look. She chose a Stella McCartney jumpsuit and carried the colour through to her nails, pumps and eyes – one of my favourite beauty looks of the evening.
people
Met Gala 2013: The 10 Most Daring Dresses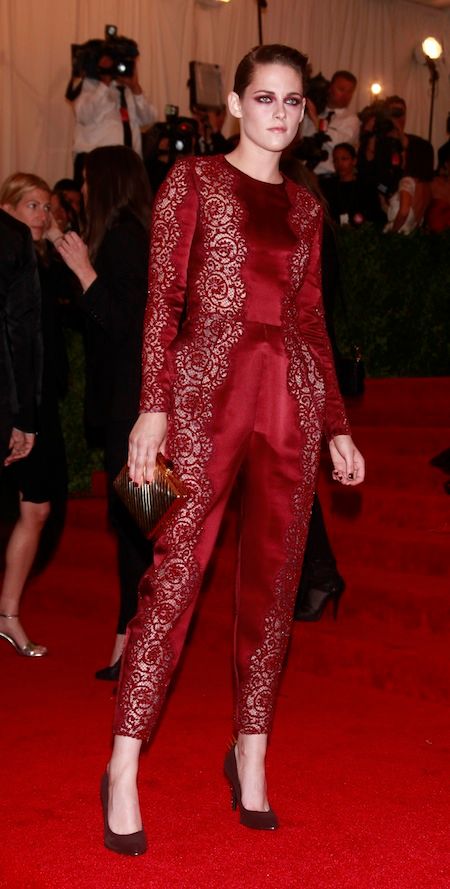 8. Kristen Stewart in Stella McCartney — burgundy jumpsuit with burgundy pants? Only the bold K.Stew could pull it off with aplomb.
Kristen Stewart Smolders In A Stella McCartney Jumpsuit At Met Gala
mtv
Forget all the pretty studded 2013 Met Gala gowns for a second. Forget those strategically-placed cutouts and ubiquitous "I'm so punk by NOT being punk!" lines, too. Right now, let's all focus on Kristen Stewart, who decided to wear a Stella McCartney jumpsuit on the red carpet tonight, and boy, did she ROCK it. It's only fitting that the former Runaways star would pay sartorial homage to "Punk: Chaos to Couture" in true K.Stew fashion: by not smiling and wearing pants (and not surprisingly, schooling everyone on her fave punk songs...). And this time, her no-nonsense casual attitude meshed perfectly with the night's theme.
Sporting a burgundy jumpsuit covered in lace embellishment, the jaw-dropping outfit might be a surprisingly minimal look, but it's definitely one that's guaranteed to stand out in the sea of spikes, studs, and metallic accessories. Well, she MAY have had spikes on her black pumps, but the only accessory the actress brought with her was a small gold box clutch. No earrings, no necklace, nada! Keeping her beauty look in tune with the outfit's bold color but still playing into the minimalist vibe, Kristen heated things up with a red smoky eye and left the rest of her face totally porcelain. Now, we've gotta talk about the hair...
She might be a fan of high ponytails and fishtail braids, but it's a rare occasion when K.Stew goes all out with a slicked-back coif. We're glad she got the memo about the whole "Costume" portion of the entire night, and dressed for the theme rather than playing it safe with classic red carpet go-tos. Although, Kristen, if you start wearing jumpsuits on the reg now, we probably wouldn't complain one bit.
laineygossip
Kristen Stewart not only chose pants, she also played up the androgyny. Sure, the crotch area isn't a great fit, but I'm not sure that wasn't intentional. Fitted pants would change the tone of look entirely. Fitted pants would swing the outfit over to the feminine. Her sex appeal here isn't in the feminine or the masculine but in what can't be defined. There's a natural raw hardness to Stewart -- it reminds me of my beloved Gia Carangi -- that McCartney is bringing out in her styling. It's why she looks so much more comfortable and confident here than, say, in comparison to that sh-tty Reem Acra gown that she wore to the Oscars.
thefashion-court
MY VERDICT: Leave it up to Kristen Stewart to do the exact opposite of what you expect her to do. There wasn't a scrap of tartan or a Chuck in sight when the "On The Road" actress arrived on the red carpet as a guest of designer Stella McCartney. Kristen wore a dramatic bordeaux silk long sleeve jumpsuit with panels of lace embroidery. First of all–I'm so excited she wore a jumpsuit. This may not have been one of my Wish List picks for her, but I had my completely heart set on a jumpsuit and she delivered. I like that there was an approach to punk taken here by incorporating some femininity into it. Kristen has a natural punk vibe about her that she didn't need to be cliché, and that's why this works for her better than it would for someone else.
As predicted, she was in her element.
I'm still holding out for her to wear a tuxedo one day, and that gives me something to look forward to.
Kristen's hairstylist opted for a "greaser boy" 'do. It was a cool and unique idea, but I can't deny that a fauxhawk or something where she had a little hair left out would have been ideal. I'm loving those garnet smoky eyes and blood red lacquered nails.
thevine
Amazingly, on a final note, Kristen Stewart – who normally looks so uncomfortable with a red carpet situation – managed to hit a homerun on all fronts: from her red lace Stella McCartney jumpsuit to her polished up-do and austere punk make-up, K-Stew (or at least K-Stew's styling team) made total sense for a change in interpreting the actress' boyish off-duty style with a jumpsuit, and adding subtle hints of punk in the detailing. It looked very Kristen Stewart and really rather punk, but it also looked glamorous, and those three things are hardly easy to pull off in one evening. via
Mel452