New Photo: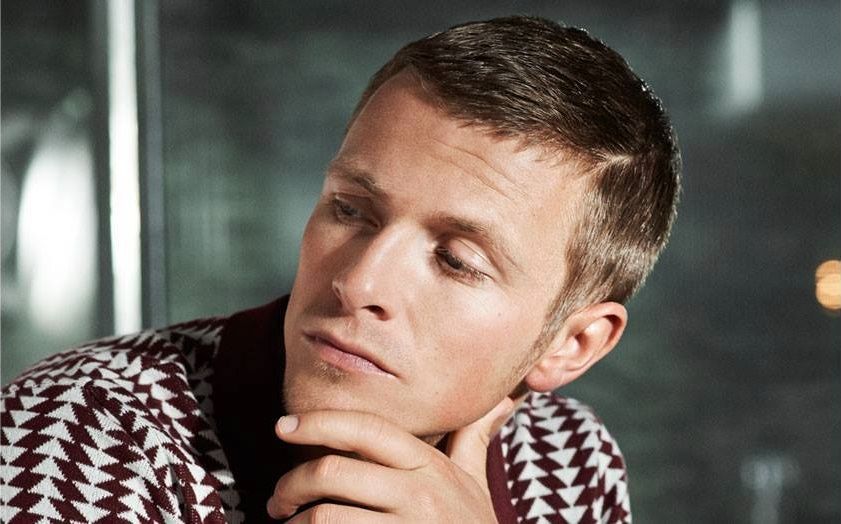 Star of upcoming Viking epic 'Hammer Of The Gods', Charlie Bewley talks about life as a modern day action hero and life after the Twilight franchise.
The Brits are taking over Hollywood and vampires are dominating both the film and television scene right now. So, it'd only make sense that somewhere in Los Angeles there would be a British vampire knocking about. Say hello to Charlie Bewley.
Twi-hards will remember Bewley best from playing Volturi vampire enforcer Demetri in the Twilight series, but he has spent some time batting for the other team - playing vampire slayer Vaughn in television series The Vampire Diaries. Now the star of upcoming Viking epic
Hammer Of The Gods
, we caught up with Bewley to talk about life as a modern day action hero.
Topman Generation: Charlie you've rocked up today in distressed boots with a grey tee and some cargo trousers that have a hole revealing red underwear...
Charlie Bewley:
(pulls at his briefs through the hole) Maroon actually! (laughs)
TG: Is this an average look for you?
CB:
Yeah, I'd describe my dress sense as minimalist. If I was cruising on the Nebuchadnezzar in Matrix land this is the stuff I'd wear. I like to keep it simple and tend to dress so I'm ready for anything. I've got two pairs of shoes – these ones I'm wearing are my hobo boots (Charlie's wearing a brown pair of distressed brown boots that look like the sole are about to fall off) and these are pretty versatile. My other shoes are my New Balance Minimalist, which are my running shoes.
TG: How'd would you describe your dress sense as a child?
CB:
Oh man, my mum was a hippie. I was like the kid from
About A Boy
! (laughs) I remember being six when I tried pulling off double denim and I remember getting sent out of the dinner hall! I wore shell suits a lot as well. I looked like an overdressed footballer.
TG: What are you most looking forward to about today's shoot?
CB:
Mostly I'm looking forward to dressing smartly for once! This funky printed suit (the first look we shoot on set) looks pretty cool! Very 60s inspired. I'm definitely more of an underdresser than an overdresser when it comes to events. I have no idea how to dress (laughs). When it comes to events I tend to go left of the traffic lights. When it came to one of the Twilight premieres I wore this outfit by Skin Graft. It was a long gothic fur coat, all sleek and Matrixy.
TG: Now you've mentioned it, let's talk about Twilight. During the franchise you played Demetri, an enforcer for the Volturi who's known for his tracking ability. How are you keeping track of your mates in the pub or the supermarket?
CB:
(laughs) Oh I just let them go! When I'm in a club or a pub I switch off my tracker and just go with the flow. I'm probably quite a bad tracker to be honest! I had to buff up for the role of Demetri!
TG: What was it like being a member of Twilight cast, it must have been a whirlwind for the four films you were a part of.
CB:
It was a bit of an ego trip for four years. I got sent this YouTube video three years ago from a Brazilian Twilight fan of half of my face tattooed on her thigh! It took me about three seconds to properly take it in. Sure enough, three months later she sent me another photo of the full face tattooed on her leg. It's a pretty damn good likeness of me as well. Except for the fact that the next day I got my hair cut so it was outdated immediately. She got the tattoo right there on the leg, so if she was wearing shorts you'd see the lower half of my face. And every time she goes to the toilet they'll be my face staring up at her.
TG: You also starred as vampire hunter Vaughn in The Vampire Diaries. Now; being a vampire, or slaying them, which one is more fun?
CB:
I loved being in Twilight. Hunting vampires in Vampire Diaries was cool – I was essentially a badass with loads of cool weapons but there's no superpowers to it. And I got killed so many times in Vampire Diaries it was wasn't even funny.
TG: Didn't you die at the end of the Twilight Saga?
CB: Kinda… in Alice's vision I did. The fact is… Robert Pattison can't fight. (laughs)
TG: Let's talk about your upcoming film "Hammer Of The Gods". You're playing a Viking on a bloody quest, so once again you're covered in mud messing around in the forest…
CB:
Yeah I love it. Filming
Hammer Of The Gods
was a thrill. Five weeks of physical mayhem – it's the stuff I got into acting for.
TG: In Hammer Of The Gods, you get sent by your dying father to track down your brother to lead the Vikings against an invading horde. You're one of four siblings, have you ever been sent on a quest like that by your parents?
CB:
I was quite a mischievous kid so it was the opposite for me. My parents were probably telling my brother to go get me back from Vancouver to run the farm in Leicester.
TG: Let's talk about music for a bit, what are you currently playing on your iPod?
CB:
I'm a massive fan of trance music. I'd recommend
In Search Of Sunrise vol 2
by Tiesto to anyone who wants to get started in trance. At the moment I'm moving back through the years to Sasha & Digweed. I'm going to be in Argentina soon and I'll be looking to catch a Hernan Cattaneo show. Wherever he goes he has an army of South American fans that follow and it ends up with a night out that looks like the rave scene in Matrix Reloaded.
TG: That's the third time you've referenced The Matrix films now, would you say you're a big sci-fi fan?
CB:
I'm definitely a fan of The Matrix films. Sci-fi in general like Star Wars and Star Trek, not so much. I love anything that plays on the fine line between reality and fantasy completely fascinates me.
TG: You've lived in LA for four years, how does the fashion back in Blighty compare?
CB:
I'd say that Britain is a lot more of a gold fish bowl when it comes to fashion - everyone here is dressed to impress. Whenever I come back there's all sorts of crazy trends going off, be it in hair styles, accessories, trouser colours or whatever. The dress sense of people in the UK is definitely a lot more abstract than how it is in LA.
TG: You've mentioned going to Argentina soon, what's next for Charlie?
CB:
It's a new film I'm in called
Rules Of The Game
. I'm looking to corner the market for films that have "Of The" in the title. It's a bit like a cross between
The Hangover
and
Deliverance
with a little bit of
Stand By Me
. I'm part of a group of four British friends who go on a stag do and things go slightly awry.
TG: Ok then, one final thing, tell us one thing the world doesn't know about Charlie Bewley
CB:
Ermm… When I was younger I had a thing for French knitting. No idea why, I guess I just thought I was cool. Also, I got given a Category Two (a report calling you immature) in Officer's Training because I was training with a guy called Robin Hood and every time he said his name I creased my pants.
I aced all the physical tests and near the end of my weekend we had to get up and talk about ourselves a bit. I did great - probably a bit arrogant, but at the end of the group talk this guy came up in front of the Sergeant Major and goes "My name's Robin Hood" and I lost my shit. If I'd have got Category One I'd have gone straight to Sandhurst. But then I'd never be here doing stuff like this I guess.
Topman Generation
Update Via
Twilight Italian Moms