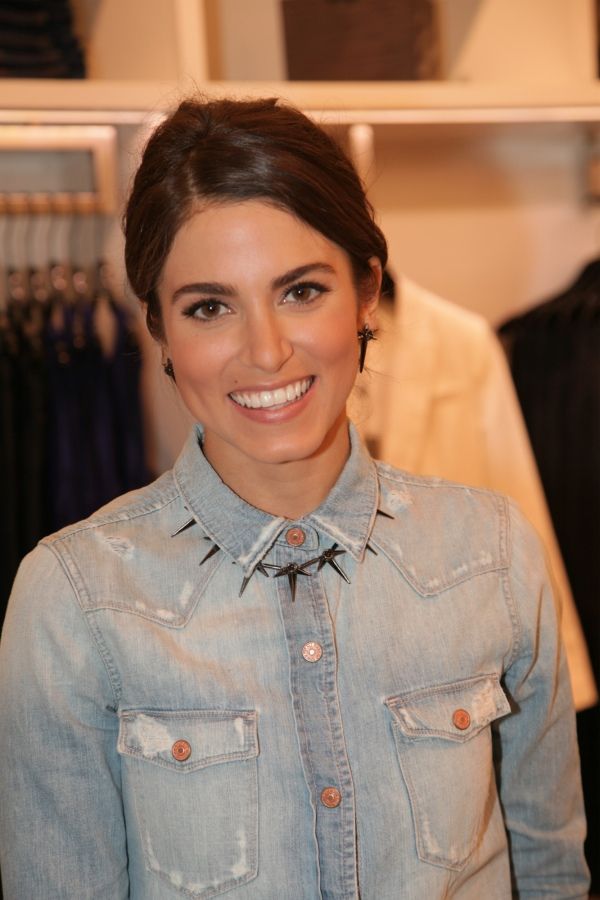 DenimBlog
As you know, the gorgeous
Nikki Reed
and 7 For All Mankind have collaborated together on a jewellery collection. We announced this a couple of days ago and you can shop the collection online at their website here. In light of the collaboration, I got the chance to interview
Nikki
about the collection to see how it came around, what her favourite pieces are, what she could see Rosalie wearing and more.
Nikki's
really sweet and I am grateful to her for taking time out of her busy schedule to do this interview for DenimBlog!
DB: Hi Nikki, thanks for doing this interview with us here at DenimBlog! We are big fans of 7 For All Mankind, what inspired you to want to collaborate with them?
Nikki: Thank you! This collaboration came about in a really organic way. I hosted an event with 7FAM for the Step Up Women's Network and someone who worked at 7 approached me about a piece I was wearing from my first jewelry collection (Mattlin Era). They expressed interest in me after hearing the story behind my collection, and before I knew it we were talking about working together! It has been such a wonderful experience. I have always been such a fan of theirs!
DB: How come you chose to do a jewellery line instead of denim?
Nikki: My great grandmother was a jewelry designer. Ever since I was a kid, it was always something that I was interested in. I am also a huge fan of fashion, so I am definitely not against the idea of expanding and exploring other areas!
DB: What is your favourite piece you have designed from the collaboration?
Nikki: At the moment I am really loving the Starry Knight necklace. I designed this piece because I wanted something to go with the denim shirts I wear on stage when Paul and I sing. So there is a special meaning behind it.
DB: Since we are a denim blog, what is your favourite 7 For All Mankind jean?
Nikki: I love the skinny distressed jeans!
DB: And just for fun, what jewellery piece could you see Rosalie wearing?
Nikki: Rosalie is very bold, so I feel like she would wear the Starry Knight necklace and earrings. Her strength is reflected in her style and those pieces feel very strong to me.
DB: Thank you so much Nikki!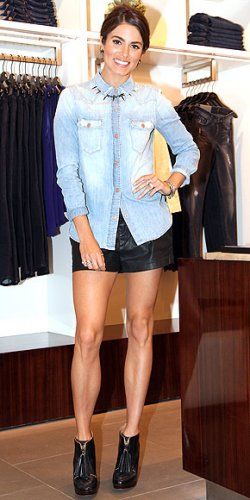 fashionwrapup
Nikki Reed attended an event in Dallas for the launch of her jewelry line, that she teamed with clothing brand 7 For All Mankind wearing this bold mixed separates ensemble from the brand.
Her look consisted of a distressed denim, button-down shirt paired with slick black, four pocket shorts.
She styled her ensemble with leather booties, stacked bangles and a spiked necklace. A tousled up-do and glossy pout added the final touches.
You can find Nikki's top at Boutique To You for $196.00 or Shopbop for 198.00. You can find her shorts at Shopbop for $178.00.