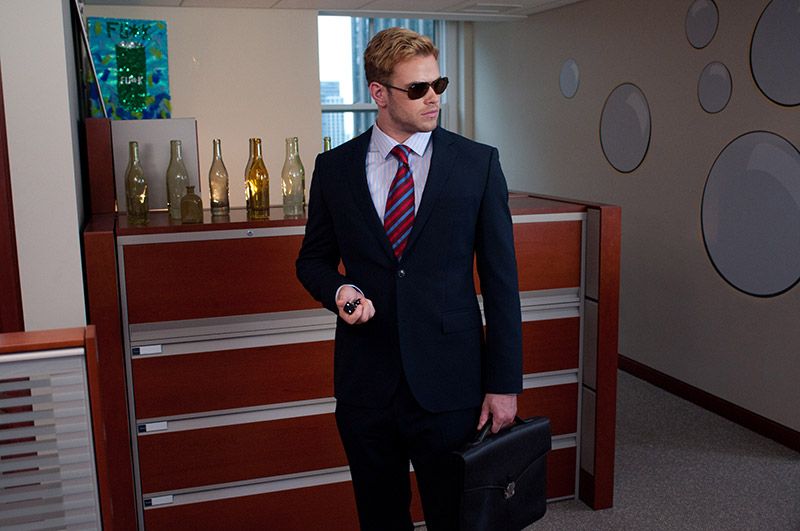 Kellan Lutz has quickly become a Hollywood "it" man, starring in roles that range from action star to brooding vampire. Best known as Emmett Cullen in the
Twilight
series, Cullen is now starring as marketing genius Sneaky Pete in Aram Rappaport's upcoming film
Syrup
.
The film centers on Pete's roommate and business school peer, Scat, who comes up with a million dollar idea for an energy drink to pitch to a marketing firm. But as Scat soon discovers, the biggest obstacle in the marketing world is figuring out who to trust – and whether or not you can even trust yourself when you hit it big.
Lutz is playing a character unlike anything he has been dealt before. For starters, Sneaky Pete's appeal in the marketing world depends on one big detail: his decision to never speak. It's not that he
can't
speak – he just decided that it would work well as part of his image. Lutz was on board with this aspect of the part.
"I found that playing this character, who chooses not to say much due to his sneaky persona, pushed me to act more and depend on my facial expressions and mannerisms to express a feeling or emotion," says Lutz. "I wasn't going full method or anything, but… as soon as I put my sunglasses on… I was Sneaky Pete."
Pete and Scat, though roommates, are still business rivals, and immediately launch into the world of marketing when opportunity comes knocking. They quickly find that it's a cutthroat world with no rules when it comes to personal relationships; feelings get hurt, bridges are burned, and someone has to come out on top when the day ends. Thankfully, in his personal life, Lutz does not have to deal with that kind of mentality, but playing it sure was fun.
"I'm only [competitive] when I work out with friends, or gamble – otherwise I'm happy with everyone's success," he explains. "I never get out of shape when I don't get a role and a friend does. If someone gets a role you want, then it was meant to be for them. I just know I worked on it and did the best I could, and then that just takes them out of the running for the next one!"
Going into the film, Lutz had a bit of marketing knowledge up his sleeve – helpful for playing someone who knows his way around the industry: "Having endorsed a few celebrity campaigns and [done a few] modeling campaigns before that, I have definitely seen how marketing, and sex, sells. I also understand the premise of people wanting what they can't have, and also wanting what celebrities have. I think in today's world of media, marketing, publicity, and celebrities, it's fascinating to see trends come and go, and what keeps some brands on top. I liked playing Sneaky Pete because I got to play the brains behind an operation, not just the muscle."
Of course, it wasn't always celebrity endorsements and campaigns for Lutz. Before his career took off, he had to find odd jobs to make ends meet, just like his character. In the opening scene of the film, the roommates are seen filling out forms to donate sperm. Lutz had much better luck on the job front, but it was still odd nonetheless. He once got paid to stand shirtless in front of an Abercrombie & Fitch store and greet shoppers at the door.
Lutz is known in his career for playing the "good guy," but as Sneaky Pete, he gets to tackle a role with an antagonistic streak. In the future, he'll be looking for characters that have a story that he can tell.
"Normally I enjoy being the good guy, but every now and again it's fun to play a little evil," he says. "Ultimately, I look for characters that have some sort of redeeming quality and have an arc in a storyline. I like characters that have obstacles to overcome and fears to face. I also like kicking ass."
Source:
ScreenPicks
Via:
KLutzOnline