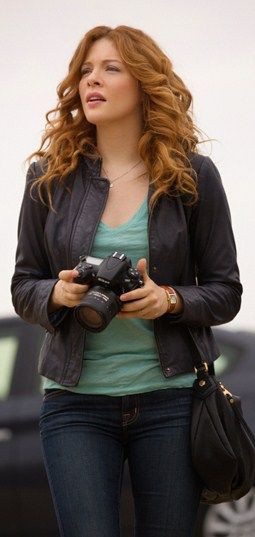 marcandrew.ca
Rachelle Lefevre is mostly recognized for her big screen role as a vampire vixen in the first two Twilight Saga installments, but that is about to change.
The Montrealer has landed a lead role in the highly anticipated new CBS sci-fi drama, Under the Dome, opposite Mike Vogel, recently of Bates Motel, and Breaking Bad's Dean Norris.
Rachelle plays Julia Shumway, an investigative reporter and resident of Chester's Mill, a small town dealing with chaos of apocalyptic proportions when a mysterious dome suddenly encases the community.
The series, based on Stephen King's 2009 novel of the same name, marks Rachelle's official return to prime time after 2011's A Gifted Man.
The actress has actually been building a concrete career in TV land for quite some time now. Previous gigs on the tube include stints on Boston Legal, Charmed, CSI: NY, Eli Stone, How I Met Your Mother, Off the Map and Veronica Mars.
When Rachelle isn't on the clock (yes, the workaholic does have a life), she finds the time to support animal rights as an advocate for
Best Friends Animal Society.
She is also actively involved with
School on Wheels
, a non-profit literacy organization for homeless children, and is spreading breast cancer awareness as an ambassador for the
Susan G. Komen for the Cure Foundation.
Who knows how she does it, but Rachelle also finds the time for horseback riding, rock climbing and music. Lots of music. Here is a look at one of her playlists..
.
All This and Heaven Too – Florence + the Machine
"As a person who has strong emotions I'm always struggling to express them in some way. This is the most incredible song about the heart having it's own language and how words will never truly translate feelings or do them justice. Actually, I'm obsessed with the whole Ceremonials album and had trouble picking only one song for this playlist."
.
Is Love Enough – Michael Franti & Spearhead
"I'm a spiritist and a humanist, and this song says it all."
.
F**ckin' Perfect – Pink
"Except for the swearing part, I really think this should be every high school's theme song. The message that you should love yourself is so important and it's also just a good tune."
.
I Believe – The Book of Mormon
"Best play ever. The song is a perfect musical theatre masterpiece, the lyrics are hysterical and Andrew Rennells' voice is a gift."
.
I'm Not the One – The Black Keys
"The best jazzy, dirty, groove track and it opens with 'I've been tried and I've been tested, I was born tired, I never got rested…' Who doesn't feel like that sometimes? Put it on, let out a resigned sigh and just chill."
Under the Dome premieres on Monday, June 24 on CBS.