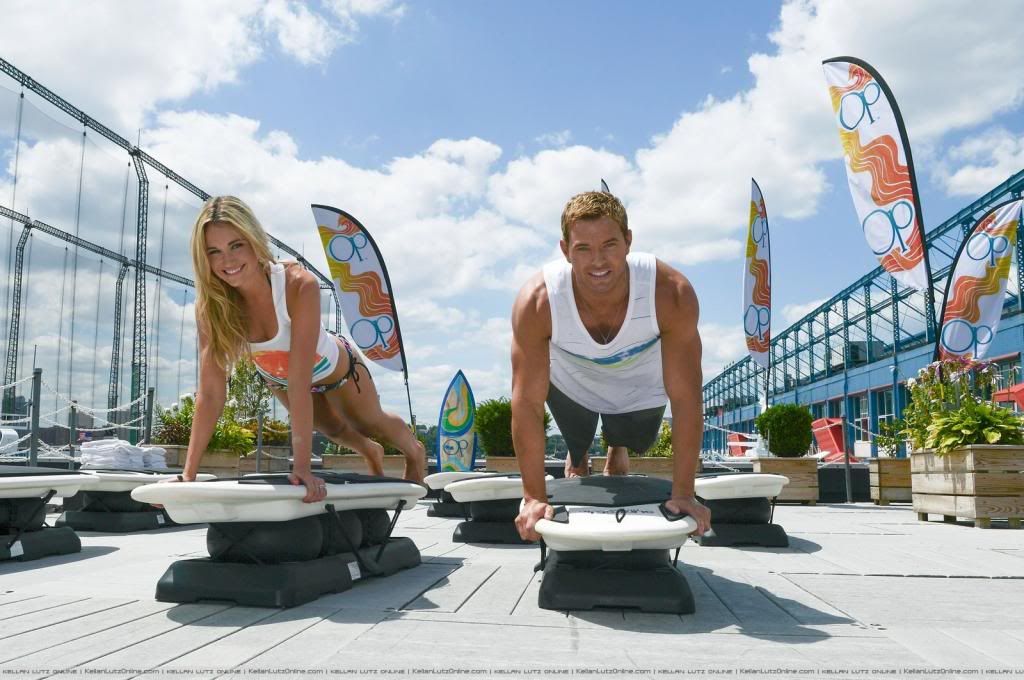 Interviews


People: Kellan Lutz: It's Not Like I Prefer to Be In My Underwear!


We're easily distracted and can get "over" trends pretty quickly, but there's one thing we know we'll never get sick of: Seeing Kellan Lutz shirtless.
In N.Y.C. with Katrina Bowden to promote their new campaign for Ocean Pacific's swimwear line on Tuesday, the model-turned-actor worked his fab smile (and even more impressive biceps) while modeling the brand's board shorts on surfboards.
His favorite pair? "These Surf and Turfs are my favorite … I was working in Bulgaria for
Hercules
and I [was] just set with these. You never knew if it was gonna rain or not, and I'd be fight training and they'd dry [quickly] when they got sweaty."
Though the star is constantly cast for body-baring gigs such as
Hercules
,
Tarzan
and Calvin Klein, the
Twilight
hunk says he'd rather not always be so exposed.
When asked what his favorite shirtless ad campaign was, he laughed, "[I prefer] more clothes. It's not like I prefer to be naked or in my underwear!"
And apparently his philosophy extends to girls as well. "Leaving more to the imagination's always better. There are girls walking in bikinis with one of those see-through white tops or button-downs. It's very angelic, I like the way fabrics move in the wind."
A flip-flops kind of guy himself, the laid-back actor looks for girls who are equally low maintenance. "I was just at the Jay-Z, Justin Timberlake concert in L.A. … [and] you notice all these girls stumbling to walk [in heels] and I'm like, 'Why? You're just gonna have a terrible time here. Who are you trying to impress?' Living by the beach I see so many girls in flip flops and they're just loving life."
Cosmopolitan UK: Kellan Lutz shows off his sexy surfer body at Op! Surf For Life fashion launch
Kellan Lutz has been pictured flexing his sexy muscles for surfing brand OP and we are NOT complaining!
The hunky Twilight actor was joined by 30 Rock actress Katrina Bowden as they pretended to catch some waves in New York. Such a hard life eh?

Since our weather has gone a bit pants, we're going to pretend we're larking around in the sunshine with Kellan Lutz to cheer ourselves up.

The actor has recently put on 20lbs of muscle for his new flick, Hercules 3D and boy is he wearing the extra pounds well.

As the face of Op! it was only natural that Kellan was sporting some of the brand's surf wear but it would have been much more fun if he took his shirt off.

After the event, Kellan tweeted, "Thanks guys! Had a great time with @OpOceanPacific answering your questions #OpSurf4Life."


Cosmopolitan: 12 Questions for a Hot Guy: Kellan Lutz, the Face of Op


When your abs literally look like they're etched into your torso, you best believe Cosmo wants a one-on-one—interview, that is. Which is exactly what we got when we sat down with actor and co-face of Ocean Pacific (along with Katrina Bowden) Kellan Lutz at an Op event recently.
We grilled this hunk on questions from what the perfect date night is to how he gets that hottttt body.


Cosmo: What do you like most about being one of the faces of Op?
Kellan Lutz:
"I was born and raised in North Dakota, so surfing seemed like another world away but Ocean Pacific was
always
the brand I associated with it because of all the surfboard ads I'd see. Once I moved to LA though, I finally got into surfing and wearing Op. And then when the company came to me with [representing Op], I was really excited and I think they saw that through me because it was like a dream coming to pass."
Cosmo: That's pretty cool—congrats on the gig, by the way. Speaking of board shorts and surfing, your body is ridic. What do you do to workout?


KL: "I don't like the word 'work' in workout. I'd rather fun-out [laughs], where you're doing something new and different, whether it's riding horses, doing Surf Set Fitness, taking classes, working out with a friend—not just counting down the time until your workout is over in the gym. [Specifically though] in my career I focus on action, so I like doing muay tai, jui jitsu, and boxing with the 87 eleven stunt guys in Marina del Rey—these guys are all ninjas, so as I'm exercising, I'm also being educated on new techniques that I can implement in future roles, which is good."


Cosmo: Staying on the subject of swimwear, do you prefer a one- or two-piece on a woman?


KL: "I love two-pieces, but I like when there is a sundress or a sheer cover up over it. I'd rather see more clothes on that are layered, yet still see-through instead of seeing girls just walking around in their bikinis."


Cosmo: Okay, we have to ask: are you single?


Kellan Lutz: "I've found that my personal life is best kept to myself. I like when you see couples getting married and you find yourself saying, 'I never knew they were dating,' so I don't talk about my relationships publically anymore."


Cosmo: Alright, alright, we respect that KL. So, hypothetically speaking, if you were single, what quality do you look for/love most in a woman?


KL: "Her love for life."


Cosmo: And what's a quality that you really don't like in a woman, and why?


KL: "Sarcasm, selfishness, and being a terrible communicator."


Cosmo: On the communication front, are you a big texter or do you like to call?


KL: "I'm big on communication, but since I travel a lot for work I have to try even harder to make it feel like I'm together with a loved one. So I text, I call, skype, email, and talk on the phone, which I enjoy—but I do it all."


Cosmo: What do you consider the perfect date night?


KL: "Never checking the phone once. When you're just so engrossed with the person you're with that this baby [picks up the phone] isn't a priority."


Cosmo: Moving this convo right along, what are your thoughts on marriage?


KL: "On marriage?! It's freaking awesome! I mean, I think marriage is one of the coolest things, but it's been evolving quite a bit. I've learned you've got to feel like you're married already and that nothing is going to change once you make it legal. It's just that final committment. I'm so excited to get married, I want a family—that's success to me. Aside from my career, I hold family in a very high regard."


Cosmo: Speaking of your career, what can we look forward to seeing you in next?


KL: "I just finished Hercules and I leave for Bulgaria at the end of this month for Expendables 3, so I'm really excited for all of that."


Cosmo: What's your dream role?


KL: "Hercules. That was my main dream role, but to [land] Expendables 3 and get to work with all of those iconic action stars is really amazing. I'd also love to do a Jason Bourne franchise though, too."


Cosmo: Would you ever be into a Twilight reunion sequel?


KL: "Oh yeah, I mean I love everything I've done. but Twilight opened doors for so much and it's been such a big part of my life, so definitely."


Kellan, we heart you hard. Thanks for the interview and serious eye candy above.


Twitter Q&A Transcript
From
@KellanLutz
:
Hey Team, Time for an @OpOceanPacific Twitter Party. I'm answering your questions NOW - Include hash-tag #OpSurf4Life, lets go!

Q: @09jojo09: @kellanlutz what is your fave product in the OP line this year
A: Surf & turf shorts!

Q: @MauraCarmel: @kellanlutz favorite quality in a girl?
A: One that Lives the life that she loves and loves the life that she lives

Q: @sophiaashley97: @kellanlutz favorite part of being involved in @Hercules3D ?
A: Living a childhood dream of being Hercules!

Q: @Shanneebear: @kellanlutz #OpSurf4Life Harry or Liam?
A: Who? And who?

Q: @keepyourpawsUP: @kellanlutz I'm tweeting illegally from school can u notice me? I LOVE YOU
A: Busted! Haha noticed!

Q: @brittanasheya: @kellanlutz Do you miss working with @AshleyMGreene?
A: Miss my Ash! Can't wait to work with her again!

Q: @OpOceanPacific: We're tweeting live with @kellanlutz and @KatrinaKBowden right NOW!
A: I'm on both computers!

Q: @robertmcnaught: @kellanlutz how's it going mate ?
A: Life is good mate, Beautiful day here in NY!

Q: @SametcanKanal: @kellanlutz favorite food?
A: Big portions!!!!!

Q: @lifeaclimbx: @kellanlutz do you like running? My best mile is 6:38! Ps: it's my birthday!
A: I love to swim! Happy bday!!!

A: Thanks guys! Had a great time with @OpOceanPacific answering your questions #OpSurf4Life"
From
@KatrinaKBowden
:
Q: @DelReyEurope: How was it for you to work with @KellanLutz?
A: Awesome! Duh! Haha. He's great- funny and super cool
Source:
Op Twitter
-
OP Facebook
-
People
-
Cosmopolitan
-
CosmopolitanUK
Pictures & Interviews via
KLutzOnline