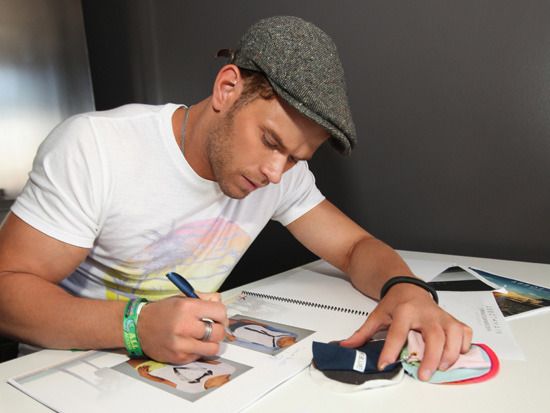 vegasmagazine
When actor Kellan Lutz, best known for his role as Emmett Cullen in Twilight, isn't playing a tough guy—he'll next star as Tarzan in Tarzan and have a role in The Expendables 3—he's working on designs for Abbot + Main, his contemporary clothing line he co-founded with Danny Guez. (Pick up his threads at Nordstrom at Fashion Show Mall.) The duo hit Vegas' bi-annual MAGIC trade show to present the brand's spring line, and sat down with Vegas to dish on his inspiration.
How would you describe this line and how does it look different than your past collections?
KELLAN LUTZ: We've evolved, obviously. We stick to cool, classic, and comfortable. Now we have this new hacci fabric that I'm obsessed with it. It feels like cashmere, but for our price point.
DANNY GUEZ: While he travels the world, he goes shopping and picks up stuff and says, "I found something amazing."
KL: I am very passionate about it—it's fun. We're really going in with collars, cardigans, shawls. We love our core and are just branching out and adding new, different pocket types and different fits.
What was the inspiration behind this collection?
KL: I lived in Venice and when they would paint buildings, the sun would tarnish it into this great, Skittles color. Everyone has been tweeting to me that they love their orange pastel sherbet hoodie. It makes me really happy.
DG: I think the most important thing in evolving from where we were from a year ago to where we are now is that we have a full women's collection and a full men's collection.
KL: We have kids, too.
DG: Definitely the inspiration for this collection were colors, colors, colors, and then just the fabrication and the feel.
Even before you were an actor, were you always interested in fashion? Did you know you wanted to start your own line?
KL: I started out modeling when I was 14, so I didn't know I wanted to act. I would work with amazing photographers and amazing stylists and learn about the different fabrics, asking them "What is this? What fabric is this?" I was just very fascinated by clothes.
In your time spent in Vegas, what do you love about the big fashion convention?
KL: That's why I love being here. I haven't had the chance to come as often as I wish I could because I've been working—I'm about to go do Expendables 3 in three days—but I wanted to make sure I came here because it's an education. I get to see all the brands, and it's a great way to see all the buyers we have relationships with, to show them what we're working on and just hang out with them.