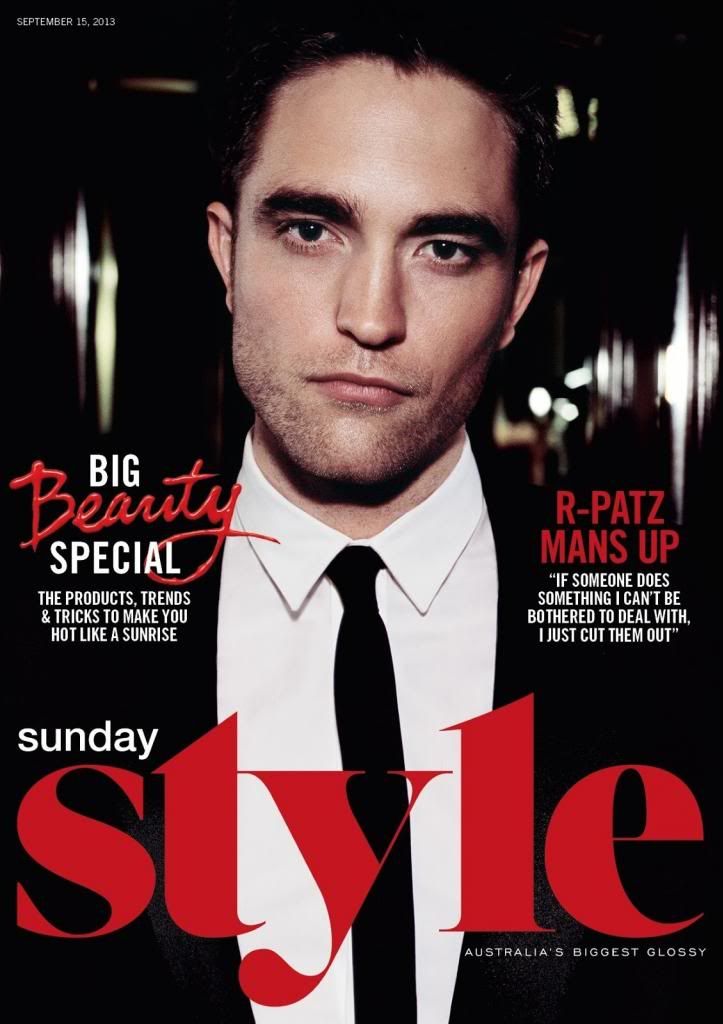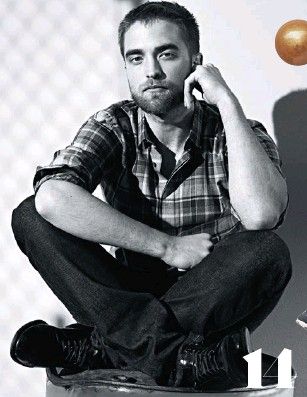 Sunday Style Mag Australia:
"IF SOMEONE DOES SOMETHING I CAN'T BE BOTHERED TO DEAL WITH, I JUST CUT THEM OUT" Robert Pattinson's trying to hug me. But I'm not playing; I'm not a hugger, so I offer my hand instead, which sets him off into we're fits doing of laughter. this?" he "OK, smiles, this amused is how and to recover a little from taken my aback. apparent In an faux effort pas, Champagne and perhaps consumed propelled in the by Polo the Lounge at the Beverly Hills Hotel while waiting to be summoned by the Dior
representatives, I finally reciprocate
his gesture, albeit awkwardly.
Pleasantries exchanged, we move to the lounge area of his hotel suite where a bottle of Dior Homme, of which Pattinson is the new face, rests strategically on the coffee table. I promptly remind him of the many conversations we've had during which he insisted that fragrances would not be a part of his future agenda. He frowns.
"Yes, you're right, but I just got so smelly that I had to start wearing it."
Suggesting his questionable sales pitch is at best a novel approach, he laughs and nods. Pattinson's manner makes it easy to forget his fame is of Olympian-sized proportions. He comes across as the same unknown Brit actor I first met in 2008, straight off the proverbial
boat to LA to promote Twilight. Back then he lamented that girls in Hollywood didn't notice him. He was also doubtful about the commercial viability of the vampire-themed indie he was promoting.
In many ways he exemplifies the adage, 'Be careful what you wish for,' reflecting on those sorely inaccurate concerns sprung from another lifetime. "I just didn't expect any of this and I didn't ask for it," he says, almost apologetically. "It was literally all luck. I just stumbled from job to job."
The Twilight franchise, which has grossed $ 3.7 billion worldwide, has afforded him the luxury of venturing into edgier fare, such as
Water for Elephants, Remember Me and Cosmopolis. Presumably, he must be pleased with the way his career is progressing?
He ponders the question. "Well, yeah," he says, with a whiff of hesitation. "It's kind of heading there, but it's difficult to remain sane. It's really difficult." He draws on his electronic cigarette. "In the beginning I didn't even notice my life had changed so massively, because I was always working. I suppose eventually I got used to it."
At our first few meetings, almost always punctuated by a movie he was promoting, he was usually clad in an elegant ensemble but with an appearance of careful dishevelment. Today, however, he's adopted a more casual look. It seems one of the benefits of success is the freedom to dress as he pleases. He fulfils the impossibly handsome
movie star cliché, but he's wearing an unremarkable grey shirt, old American Eagle jeans and Vans sneakers. His face is sporting two-day growth and he has a backward baseball cap perched on his
head, with not a hair in sight. Despite his status as one of Hollywood's most bankable and highest-paid actors, this afternoon, Pattinson looks more like someone you might find in a dive bar.
The powers that be at Dior were apparently attracted to this
rock-star vibe. The fashion and beauty house pursued Pattinson for Gavras the lead (who role directed in its new M.I.A's ad campaign, Born Free video). a short It's filmby set to Led Romain
Whole Lotta Love Zeppelin's scenarios illustrating this free-spirited and features nonchalance. Pattinson in He various drives a vintage convertible along a beach accompanied by a trio
of equally photogenic windblown passengers. We also see him sitting on a rooftop and, later, cavorting with a beautiful woman in a hotel. He's a worthy successor to Dior's previous male fragrance ambassador, Jude Law.
Unsurprisingly, the star has been offered virtually every
endorsement deal on the planet. With a devoted fan base in the millions, ranging from tweens to mums, this face is a marketing manager's dream.
Answering the question of why he chose Dior, he explains:
"I was looking at Dior as the brand rather than the individual
product, although I probably shouldn't be saying that." He lowers his voice and glances at the two Dior reps who have flown in from Paris. "I looked at other companies – and I'm not just saying this – but, for a man, I don't think there's anything classier than Dior."
Noting that he's now referring to himself as a man, he smiles and looks slightly embarrassed.
"Well, yes, I'm in a vaguely transitional phase in my life. I'm trying to get out of being perceived as really young and I think doing this helps along those lines. I'm 27 now and I can feel people looking at me differently. It's a weird year. With Twilight ending and other films I've done, like Cosmopolis,
I suddenly feel like I'm being treated like an actual actor
rather than…" He trails off, not finishing his sentence –
something he tends to do frequently.
He leans forward conspiratorially. "I've been wearing more cologne in the past three days than I've ever worn in my life. And by the way, it's not a cologne, which I learned today; it's eau de toilette."
Sunday Telegraph
|
Herald Sun

,
Cover:
LMS
| New Pic/Transcription
Gossipgya
l
Full HQ Scans:
RPAustralia
*The Sunday Times Magazine (from WA)
@Seagull_83
Via
RPAustralia