Robert Pattinson
Every day more man
Exclusively to LuxWoman, because of the launch of the short-film which is the new campaign of Dior Homme, we found Robert, who, before our eyes and the thousands of fans (through the cameras), is going through a transformation of teenager-vampire to a style man. And we got to know that the smell that he likes most is… the people's!
R-Patz (the name that the tabloids gave him and that he hates) hardly needs presentations. It was necessary to be really distracted not to know this three things about him: 1) he was Edward, the vampire from Twilight which Bella falls in love with; 2) he dated Bella (the actress Kristen Stewart) in real life; 3) last summer, he was cheated, when she involved herself with director Rupert Sanders. The relation between the two actors has been a permanently on-and-off, dissected in newspapers and magazines, but now Robert Pattinson forgets it all to be the new face of the campaign of the Dior Homme perfume. In an exclusive interview to LuxWoman, the actor talks about his participation in the whole process (big, for the usual in commercials), about his tastes (style, music, cinema…) and the phase he is going through, in which he wants to be (almost) aggressively independent.
Being Dior Homme ambassador is something completely different of being an actor… What attracted you in this relationship with Dior?
When the brand contacted me, I was really chocked at the beginning, because Dior is almost a mythic name. The brand is seen like very sophisticated and irreproachable. I like what Dior represents and when they contacted me it was in a way that seemed right, as well as the timing, when I was ending filming the Twilight series. I met the creative team and completely changed my idea when I understood how "open minded" they were. The focus on the artistic collaboration, beyond the commercial interest, was the thing that captivated me.
Captivated… and easily convinced?
Not easily! [Laughs.] I had never been attracted to publicity, probably because I didn't considered it as a work of representation. When they contacted me, I had already grown a lot as an actor and done many movies, so I felt more legitimate. When we sat to debate ideas and directors, everyone that was involved was really fearless. I started thinking that it would be like doing a short-movie and got excited. It turned up to be a challenge and complement my work in cinema in a very interesting way.
The brand is a synonym of luxury and natural elegance. What does this mean for you?
The word that occurs me is "effortless". The real luxury is not having to worry. When I filmed for Dior, that was what I felt.
And what about that natural elegance?
I wouldn't associate it to aesthetics. As luxury, it should arise naturally, with any effort. It has more to do with the way that some people are and exude their energy, because they're comfortable with themselves. Elegance has also to do with "listening", instead of wanting that everything is always about us.
With you as an ambassador, Dior Homme addresses to a new generation of men. How would you define the generation that you belong to?
I've just turned 27 and now I understand that no one looks at me as a child. It's really weird to start to feel as an adult from a moment to another and see that people treat you differently. Defining my generation is difficult, because for the people of my age, the last ten years were a transition period and many are still trying to understand how everything works. I know I am! [smiles.]
Tnxs
PtTwilight
ICYMI
Elle Man Canada (Same
Elle France
Intv) Tnxs
RPlife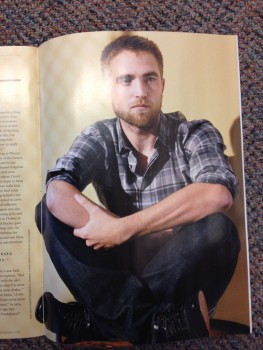 Same Intervew from
Elle France
- Elle Argentina Issue Tnxs
LaSagaAmanecer