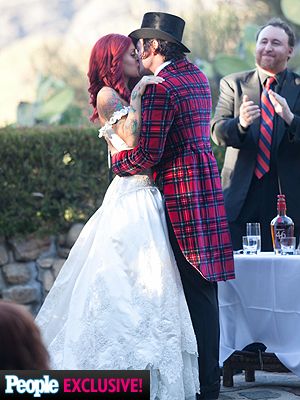 People
It's a safe bet Sheila Hafsadi turned many a head when she walked down the aisle all dressed in white to marry Twilight alum Jackson Rathbone.
But the groom, 28, stole at least some of the show in his own eye-catching tartan tux he rocked during the Sept. 29 nuptials.
In a series of Alison Dyer-snapped photos released exclusively to PEOPLE, the newlyweds blended tradition with their trailblazing ways for their carnival-themed big day, which was actually a small affair with about 150 guests (including former costar Nikki Reed, who was in the wedding party) flocking to the Saddle Peak Lodge in Calabasas, Calif.
The bride complimented her Eve Muscio-designed gown and vintage engagement ring with a coordinating wedding band. (Rathbone, on the other hand, chose a David Yurman ring with his custom-made Klein Epstein & Parker suit.)
The couple, who are parents to a son, Monroe Jackson Rathbone VI, now 15 months old, shared their first dance as husband and wife to a Ramones song.
The newlyweds, however, kept with the sideshow theme to let someone else take the spotlight: a sword-swallowing performer, who entertained guests at the reception.
"We are both spontaneous people. I wouldn't say we are bohemian, but we are both artistic," Rathbone previously told PEOPLE of meeting Hafsadi in Fort Lauderdale in 2011. He had been playing a show with his former band, 100 Monkeys, when he saw her working at the venue next door.
"It was one of those things. I always said I believed in love at first sight, but I never really had that feeling before."
One tradition Rathbone seemed more than happy to honor: the removal of the bride's garter. (And, true to his Twilight alter-ego, he used his teeth.)
"Honestly, at the end of the day, you don't need a piece of paper to say you are in love," he told PEOPLE of his wedding plans after his son's birth. "We are dedicated completely to one another."
Can you see Nikki here: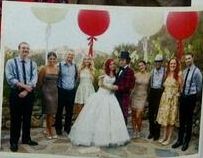 Scan:
@epnebelle
@JacksonRathbone
w/ my best man, the incredible Lawrence "Uncle Larry" Abrams,