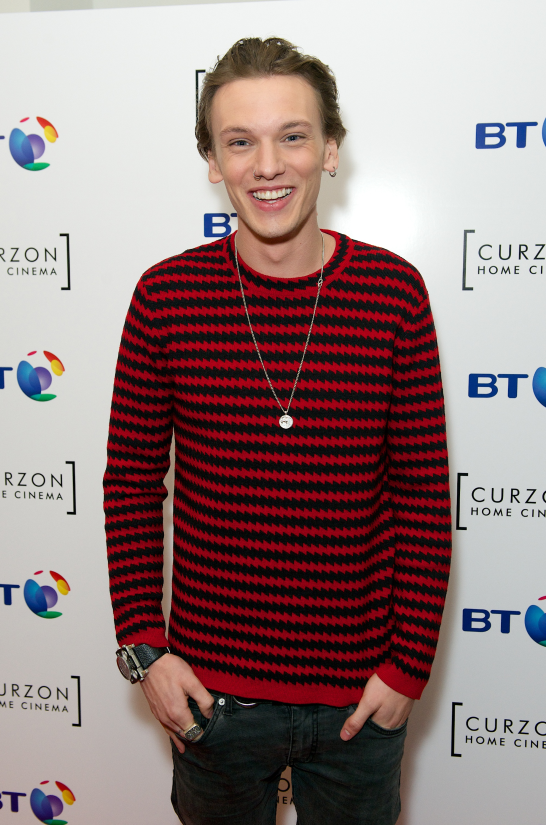 Metro
Exclusive: Twilight pin up Jamie Campbell Bower insists famous fellas feel just as much pressure to look sexy in Hollywood as women.
The 24-year-old Brit hit out in an exclusive catch-up with Guilty Pleasures, where he conceded he finds it 'difficult' to turn up the sex appeal.
'I think, possibly within the next ten years, we're going to hear a lot more men talking about (the pressure to look good),' he said at London's BT Tower for the launch of Curzon Home Cinema.
'The last movie I did, The Mortal Instruments, when I got the role I was out of shape and I had to get in shape.
'Putting it that way makes it sound simple, well it is. But with that comes self-criticism and it does get difficult.'
Speaking as the row about sex in female pop videos is reaching boiling point, he continued: 'Obviously there's a pressure on men as well to look a certain way and to be big or muscular. When they're not it's like, "Oh my God Leonardo DiCaprio's gotten fat" and it's like, do you know what, he's not he's not going to be a 17-year-old boy forever.'
The self-deprecating star said he didn't feel 'sexy enough' to audition for the coveted role of Christian Grey in the movie version of E.L. James' 50 Shades of Grey.
'I think there would have been uproar (if I'd got it),' he said. 'I've done on-screen sex before but I'm not particularly sexy. I would have felt a bit like Austin Powers.'
His sex symbol status could have been firmly cemented had he landed the lead role of Edward Cullen in the Twilight franchise, which Robert Pattinson bagged.
'I wanted to be involved in the first Twilight film,' he revealed, 'I wanted to play Edward.
'Unfortunately, when it came along, I wasn't available for meetings and I was on tour.'
But Campbell Bower can thank his lucky stars, as he doesn't want to be a LA luvvy and have his private life splashed all over the papers like co-star R-Patz.
'I suppose having my private life splashed everywhere is the nature of the beast, it happens sometimes,' he said, adding: 'That's one of the reasons I don't live in Los Angeles. You're only enticing your life if you do.
'I can't stand people that live there and complain about (being papped), why don't you just move out?
'I know it's where the industry is but, if you're that successful, you don't have to be there. It's a bit of a mind f*** that on,' he added.
JJ
Jamie Campbell Bower: 'Selfish Giant' London Screening!
Jamie Campbell Bower attends a screening of The Selfish Giant on Thursday (October 24) at BT Tower in London, England.
FB
| More:
Here