Large
: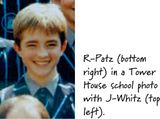 Click on for read:
"Him & Me":
Amazon
Scans:
@Gossipgyal
There are some mentions of Rob in Jack/Michael Whitehall book..
In the book it mentions about Rob in the school plays - Peter Pan, Bugsy Malone, Joseph.
Jack Whitehall went to the same school as Rob. Michael Whitehall is Jacks dad, he is a producer/talent agent.