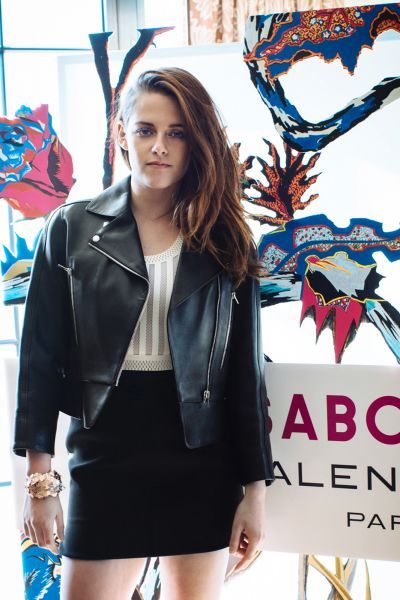 refinery29
If there's anyone in Hollywood who has mastered looking effortlessly cool, it's Kristen Stewart. From her tossed-just-so strands to her artfully smudged liner, the girl is just the embodiment of IDGAF cool. Nowhere is that more evident than in her latest ads for Balenciaga, where the actress poses seminude in the brand's visuals for its newest perfume, Rosabotanica. Centered around a heart of "spicy vegetal rose," the scent features citrus, green fig leaves, and white wood accords for a modern, feminine, and very sexy fragrance.
We sat down to talk with Stewart about her role with Balenciaga and yes, those sultry photos. Dressed in head-to-toe Spring 2014 Balenciaga — including the most insanely gorgeous rose-gold cuff/work of art — Stewart was frank, candid, and totally down to dish. Besides letting those gossip sites know what she really thinks about clickbait headlines, Stewart also dished on everything from her undying love of dry shampoo to her thoughts on mastering effortless style. She also shared her secret to the smudged-just-right liner look. Hint: It doesn't involve a billion makeup brushes and some crazy-complicated 10-step technique.
What do you love best about working with a brand like Balenciaga?
"If I wasn't in the position that I'm in, I don't think that I'd be able to find these sides of myself. I'm a pretty basic, practical dresser. But, you know at the same time when I go to an event or participate in a photo shoot or am involved with something like this, it can really make me aware that I have those things in me somewhere.
"I have no creative involvement in this whatsoever. But, the reason I'm into this is that I get to stand by and watch people who are really good at what they do and who really do what they do because it's the love of their lives; it's the art that they make. It's not about a product — a lot of fashion can seem business oriented. And, this just has always felt really organic and in a really cool way, really compulsive.
"Nicolas [Ghesquière] always gave me that impression and then asked me to do this with him. I really appreciated being thrown into his world. Not everyone has such an elaborate story or idea behind their fragrance. It's just like it smells nice or it's a beautiful picture. And, that's cool, too, but this was just a little bit more intriguing."
We've got to talk about the ads — they're a bit revealing. Did you have any trepidation or nervousness about being exposed like that?
"No, it's funny. The concept was never centered around any naked idea. It was always like we want to have something really simple, and we like the character that we had in mind who was this wide-eyed, young, fresh girl in this sort of extreme environment and seeing how she copes with those elements.
"This idea was seeing that she is stripped down a bit but like much more conditioned and sort of one with the environment. And, it's sort of grown into her, and she's grown into it. [It's] the idea of making it all about the imagery and all about the idea of a fragrance rather than the clothes, because as soon as you put something [on], it's a little distracting. It was never about my body, it was just about like, face. It's just so weird… But, do you know why? [Website] clicks. I mean straight up — that's so obvious."
You have this great, effortless look about you. Do you have any sort of beauty secrets to getting that kind of easy, low-maintenance glam?
"It's funny — really the only way to look like you're not trying is to genuinely not. But...specifically, I guess dry shampoo is a godsend."
Do you have a favorite?
"I like Bumble and bumble. I like the loose powder, I don't like the spray. I think just staying healthy, because if you want to look thrown together and you don't want to try, I think it's, you know, drink a lot of water, get sleep, and then you can have a sort of rolled-out-of-bed look without looking awful."
What about your personal style? Any tips to low-maintenance chic dressing?
"I'm such an L.A. kid. I always forget to wear socks — I'll be outside, like, 'Oh my god, I'm freezing!' I feel so un-chic. I feel like that's kind of my thing. Like, 'Oh, whatever, I'm gonna go to Paris, but I'm not gonna change my T-shirt.' But, I don't really approach it too much in my daily life. I have things that I gravitate towards, like I like things to look worn in... I don't really put too much thought into it."
One thing we've been loving lately about the red carpet is how we've moved away from this cookie-cutter notion of beauty — tanned, blonde, glamour waves, red lips — and are starting to see much more celebration of unconventional beauty. What are your thoughts on that?
"I think it's awesome. As soon as you start viewing all of this as anything more than just something fun and creative to do, and you feel like there are notes you have to hit to satisfy a certain thing, then why are you even doing it? You should be driven by something that you admire. You should be driven by impulses that are, you know, like experimentation. You should mess with things and find it naturally rather than trying to create this product.
"I feel bad for people who feel like they operate from this place of fear when you really should be risky and make mistakes. The happy mistake is always the one that's the best, when you go, 'Whoa, that is just different. I've never seen that, and she is rocking it.' I'd rather be around people that love what they do and that are really good and really artistic rather than, like, technically pretty looks. Pretty is never what you want to go for."
If you could do anything with your hair, not for a role but just for you personally, what would you do?
"I would like to chop it sometime soon. Everyone's doing that, but it must feel really good. I had short hair when I was younger, and then it took me sort of so long to get to this point, I've held on to it. But, I would love to have a very straightforward boy cut… Everyone's short hair looks great. I like the trend a lot, but there's a cute aspect that I would like to get rid of and, like, have a dude's haircut."
Like an androgynous cut or straight-up "boy" hair?
"Straight up like a guy's haircut."
Would you consider doing a shaved sides thing like Natalie Dormer?
"I love that look. I like a buzz with long [hair]. I think it'd look great like that. Yeah, I would do that. I'm really into different looks. I need to keep slightly neutral because I always fear that I'm gonna sign on to a project, and I'm not going to be in a position to look how I want to look. So, I'm always a little bit scared to go extreme, but I love extreme."
Your signature look with your hair is that whole no-part, swept-back thing. Is that a look you had to cultivate or did it just kind of happen?
"That's totally how I'm more comfortable. I think center parts are awesome. They look great on a lot of people. But, there's a rigidity to it that makes me a little uncomfortable. I really like to be able to move around, and if you just texture your hair right, you can do anything and you don't have to worry about it. I just had a center part in a movie that I did. It was really hard for me to keep it all day, too. I was just constantly wanting to be like, 'Ugh!'"
You look really fantastic with a smoky eye, and you do it really confidently. You've managed to just nail it where a lot of people just can't get it. What draws you to that look?
"Probably that I don't wear a whole lot of makeup when I'm not working. So, when I do, I like to really push it. And, also it's that same thing: If you're going to do something, if you're going to work with a makeup artist, I want to work with someone who's really pushing it and doing bold things and not playing it safe.
"The cool thing about walking a carpet, if you want to reap the benefits, you get to do something that you wouldn't normally do. So, instead of being like, okay, I'm going to appease these people, I'm going to be pretty — you probably won't appease that many people if you're just pretty. Just forget that and have fun with it. I like things looking a little bit more, not just lived in, but like a little messed up, rough around the edges. I don't mind that."
Be honest, do you put the eyeliner on and just go to bed and wear it the next day, or do you actually do it and smudge it?
"Oh, both. Definitely, absolutely. I try to wash my face before I go to bed, but I don't own eye-makeup remover. Not at all."
How do you get it off?
"I just make sure it's out from under my eyes and then it looks great. There's usually maybe one or two things you just have to wipe off. Instant smoky eye."
Why do you think an element of effortlessness and undoneness is so important to your particular aesthetic?
"It sort of goes along with everything that we're saying. It's just not very interesting for me to consume what somebody has decided to give me. I want to notice things myself — when I really admire someone's style or someone's work in any way, it's always things that you're like, 'Wow, I wonder if they know how cool that is? I wonder if they are aware how good that song is' — you know what I mean? It's typically more interesting if they don't. Rather than being like, 'Oh, yeah, I really worked on that, I really thought about it.
"Obviously it really goes along with not being contrived, and in this business, as soon as you start taking credit for things, you're now denying what makes it so beautiful. Which is that it's natural; it's an organic thing, it's the process. You rely on the process, you have a creative impulse, you follow it. You can't really take credit for it, it kind of goes through you. So, that's why, when people sort of look like they don't give a fuck, it's cool. It's just like that's classic. That's always going to be cool."
HQ:
Via
/
kstewartfans