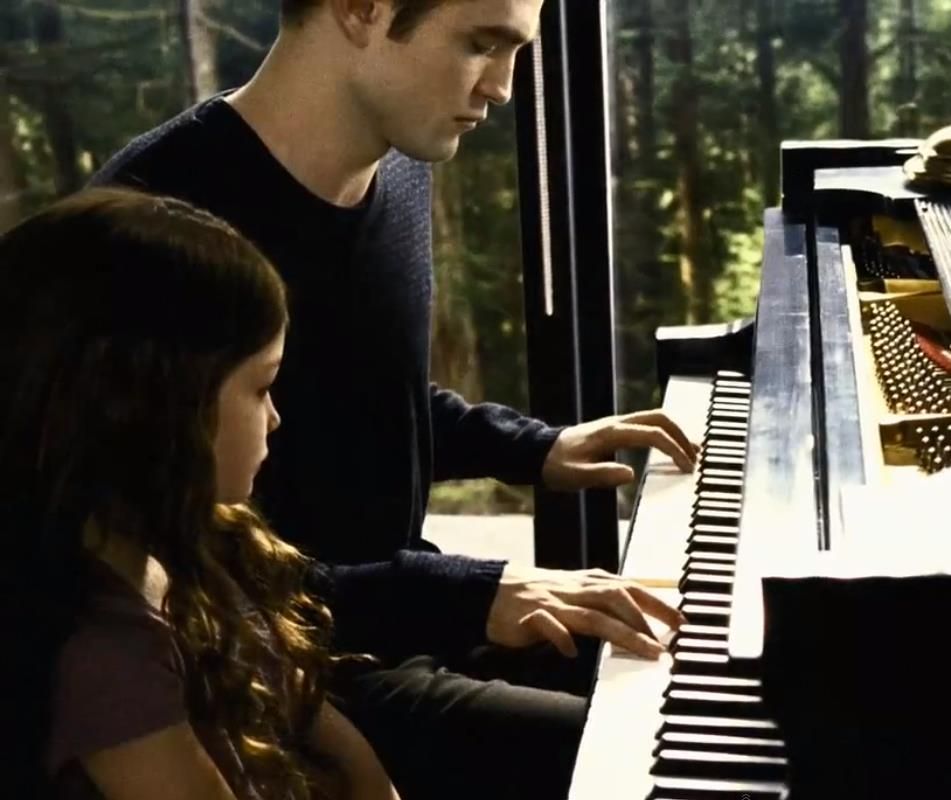 "The opening title sequence, in which frost blossoms on branches over Carter Burwell's elegant score, is surprisingly stylish." - Robbie Collin, Daily Telegraph, Nov. 14, 2012.
"Condon did several things when he signed on for both halves of "Breaking Dawn." First, he brought his regular collaborators with him, and that is a pretty significant upgrade behind the scenes. He brought Carter Burwell (who scored the first movie) back to the series to close it out, and Burwell's work is, as one would expect, very strong and often subtle. He can throw bombast at a moment when it demands it, but he's not just slapping up wallpaper." - Drew McWeeny, HitFix, Nov. 15, 2012.
"Hands-down my favourite part of any Twilight Saga film is the music, and Breaking Dawn Part Two is no exception. Back on board is music supervisor Alexandra Patsavas, who has once again assembled a powerhouse soundtrack with contributions from artists such as Green Day, Feist and Ellie Goulding. Also returning is composer Carter Burwell, who has the Twilight films down to a tee – from the first notes of a rearranged version of Bella's Lullaby at the beginning of the film to the beautiful Plus Que Ma Propre Vie (which fans will recognise as being the Cullen motto)." - Candace Whitehead, iAfrica, Nov. 16, 2012.
"Back for seconds, Christina Perri's catchy ballad 'A Thousand Years' seems to be The Chosen One as far as themes go, outside of Carter Burwell's complicated melodramatic scores. In its coupling of death with love and eternity, it's most representative of the 'Saga,' as well as the dreary optimism of this soundtrack set." - Katie Hasty, HitFix review of the soundtrack, Nov. 12, 2012.
"Bill Condon (Gods and Monsters, Dreamgirls), starts off with a pretty impressive opening title sequence and opening scene, matched well with Carter Burwell's majestic score..." - Ian Kane, Epoch Times, Nov. 15, 2012.
Carter's Notes:
I started writing music for

Breaking Dawn Part 2

more than two years before it was released. The director, Bill Condon, suggested that, just as Edward had played "Bella's Lullaby" for Bella in the firstTwilight

film, he should now create a lullaby for his daughter Renesmee. This meant that I had to write it before they shot the film, which was happening at the same time as

Breaking Dawn Part 1. And, as Rob Pattinson wanted to play it on screen, I had to write something that Rob could play and give him time to learn it.
Only a few weeks before Bill made this suggestion, I learned that I was about to have a baby girl myself. Inevitably I wrote the piece thinking as much about my daughter as about Edward and Bella's. In its way this echoed

the story

of how "Bella's Lullaby" had been written originally for my wife. For some reason there is a running parallel between my life and Edward's.
"Renesmee's Lullaby" was hinted at during Bella's pregnancy in Breaking Dawn Part 1, but only really came into its own in Part 2. As Bill saw it, Edward would play it on the piano, as though he were making it up on the spot. Renesmee, who grows very quickly and has unknown but prodigious powers, would sit at the piano with her father, appearing to be five years old. She joins in and they develop the piece for four hands. As they do so, the scene shifts to Volterra, Italy.
The piano music continues, but is joined by the gothic music of the Volturi, the vampires who oppose Edward's coven, as Irina tells them about Renesmee's existence, setting in motion the great conflict of the film. At the end of the scene we cut back to the Cullens and the piano music continues, but now Renesmee appears a few years older and is playing the piece by herself, with great skill. This sort of audiovisual storytelling in one of Bill Condon's specialties. A complex story encompassing multiple characters, locations and times is told compactly by overlapping scenes, using music as connective tissue.
As I mentioned in my notes for

Part 1, this score was treated as true melodrama, with music playing every thought and feeling, every raised eyebrow and decapitated head. There is almost 90 minutes of score in Part 2, and again the sheer quantity was challenging. But there were several differences between this film and the ones that preceded it that went beyond the numbers.
First, there are almost no true humans left in the story. Bella's dad enters the story briefly, but is the only human involved. Every one else exists on a supernatural plane. No one is faced with human limitations or doubts. This is most striking, perhaps, for Bella. She is completely at ease with her new powers as a vampire, in ways she never was as a human, so the awkwardness that in many ways defined her character, and which was often central to the sound of the first film, is all gone.
Second, many new characters enter the story. The Cullens go around the world recruiting allies for their conflict with the Volturi. Literally dozens of new vampires are introduced. I didn't attempt to write specific themes for all of them, although I did for some. However, the new characters did allow for changes of tone which helped keep the music varied.
Lastly, the film ends with an unabashed over-the-top action sequence that takes up almost 30 minutes of screen time. This required a different type of score than any of the previous films. Characters fly through the air, rip each other's heads off, open fissures in the Earth and leave the ground littered with bodies. The music grows much larger than it has before - symphony orchestra, choir, electric guitar, plus a battery of percussion.
I don't have that much experience as an "action" composer, and it was challenging to keep the tension and pace ever-increasing for long periods of time. I could never have done it without the help of my colleagues - Chris Willis, Adam Smalley, Sonny Kompanek and John Thomas. In the end, I feel we managed to bring it all to a satisfying climax, but I guess I have to watch all the films back-to-back to know if that's really true.