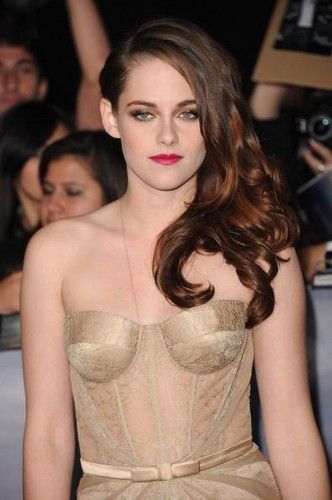 Twilight Saga
star
Kristen Stewart
was one of the few actresses to make
The Hollywood Reporter
's power 100 list for Women in Entertainment in 2012.
Stewart ranked fiftieth on the list - a spot shared with
The Hunger Games
star Jennifer Lawrence and the unconquerable Meryl Streep.
About Stewart
THR
wrote:
Stewart, 22, changed the Hollywood status quo when the Twilight franchise proved that females have as much clout as fanboys. The five films, including The Twilight Saga: Breaking Dawn -- Part 2, now in theaters, have grossed more than $3.1 billion worldwide to date. And, like Lawrence, she has greenlight power. Stewart's other 2012 film, Snow White and the Huntsman, earned $400.3 million worldwide thanks in part to the support of her Twilight fans. She's next in theaters in the Walter Salles indie On the Road, which opens in select theaters Dec. 21.

Also of interest, Summit Entertainment marketing guru Nancy Kirkpatrick made the cut as well at number forty-one.
Kirkpatrick was interviewed for the feature and reflected on both the studio's involvement with the
Twilight
fanbase and her respect for Kristen Stewart.
"When do you ever get to do something like that at a studio? It was so much fun ... And these aren't 17-year-old girls, these are women," she explained. "We really felt like we were doing something that hadn't been done before -- building a franchise at an independent studio built on the backs of females ... Working with a female fan base is great. With Batman, there was always drama with the fans ... I've still never experienced anything like it. The decibel level was incredible. I remember Kristen came off the stage shaking because it was so overwhelming. She was a baby then ... I always kept a mother's eye on her and am so proud of the way she handled everything since
Twilight
began."
Source:
examiner