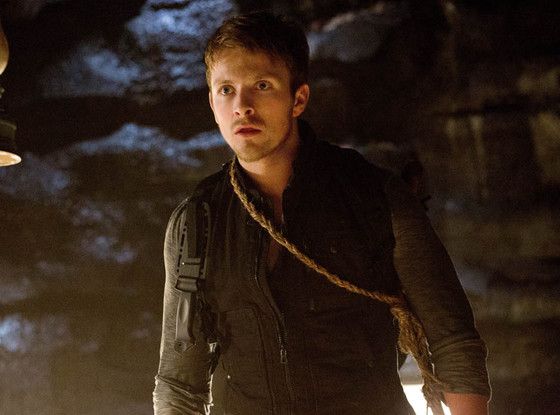 "Watch out Jeremy (Steven R. McQueen), there's a new hunter in town!
Twilight actor Charlie Bewley is set to guest star on The Vampire Diaries as Vaughn, another member of the Five, a highly skilled group of vampire hunters whose tattoos are a road map to the cure for vampirism.
We've got your exclusive first look at Bewley as the "charming and tough as hell" Vaughn, who isn't exactly Damon's (Ian Somerhalder) biggest fan.
In these stills from the CW hit's Feb. 14 episode "Down the Rabbit Hole," Bewley makes his debut as Vaughn, a hunter, when the gang, including Damon, Elena (Nina Dobrev) and Stefan (Paul Wesley), take a trip to Nova Scotia in an attempt to find the cure. (Nothing good ever happens in the woods, have they learned nothing from scary movies or their previous experiences?!)
Vaughn is seen torturing Damon, whom he's heard a lot about, but can't quite understand why he feels so strongly about Elena.
As we first reported, Bewley, who played Volturi member Demetri in the Twilight franchise, will stick around for several episodes.
The Vampire Diaries airs Thursday at 8 p.m. on the CW."
Source:
eonline