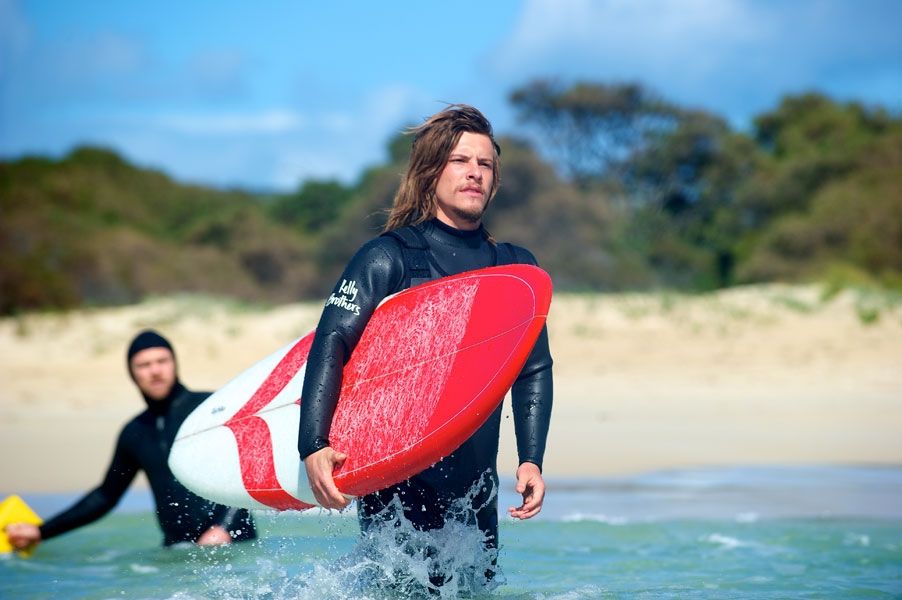 Rare does an Australian film have as much punch as surfing drama Drift.
Fusing an all-star cast of some of Australia's best actors including Sam Worthington, Myles Pollard, Steve Bastoni and Xavier Samuel, with a genuinely gripping story and some of the best surf cinematography seen in a feature film ever, it's a world away from what you've come to expect from Australian cinema in recent years, and couldn't be better for it.
Catching up with Xavier ahead of the film's release this week, Hit agrees with the rising star's assertion that Drift is a genuine triumph of a film, and not just because it's made here in Australia.
"I'm pretty excited about it all, I'm really happy for Morgan (O'Neill) and Ben (Nott), the directors," Xavier says, fresh from the film's premiere in Western Australia, where it was filmed.
"It's a really classy film and it features surf footage unlike anything you've seen in a feature film before. Someone was saying the other day that the waves in the film are the biggest and most spectacular ever in a dramatic feature film."
Speaking of big waves, Xavier says a bulk of the surfing featured in the film is actually the lead actors out on the unforgiving WA breaks, with the rest made up by some of Australia's best pro surfers.
"I've done a bit of surfing before," he confesses.
"I did a film earlier in my career where I had to learn to surf. But as soon as I got the role, I jumped into the water and spent every day surfing to practise.
"There was a whole bunch of wicked surfers involved in the shooting of the film, but Morgan really wanted to make a film where the actors where actually on the waves, to capture that kind of enthusiasm, like, `those guys are really doing that!
"I think about 75 per cent of the surfing you see is actually us and the rest is the great gun surfers they have over there (in Western Australia). I think in the end, my naivety saved me. Had I known what I was getting myself into, I might have stayed on shore. It definitely crossed my mind a couple of times sitting out the back of the break with massive waves eclipsing right in front of me."
One of those moments took place at the infamous Cow Bombie, one of Margaret River's biggest and most dangerous breaks.
"Oh man, it was hectic," he says with a chuckle. "It's like a washing machine. It's really intense and there was one time when I got held under, dragging up across the reef. I remember thinking, 'I wouldn't mind coming up for air soon'. When I came into shore, I had cut up hands and feet, I think I earned the local (surfers') respect."
Another one of Drift's biggest drawcards is a dynamic performance by one of Australia's most recent Hollywood breakthroughs, Sam Worthington. Xavier says (and Hit agrees) that you won't have seen the Avatar and Clash Of The Titans star in a role quite like JB, the drug-dealing surf photographer.
"It's unlike anything he's done before," Xavier says.
"I mean he's a nomad surf photographer that drives from town to town in a bus painted with psychedelic colours! You can see the twinkle in his eye in the movie, he really enjoyed playing that role."
Xavier says Drift's story about two brothers who build one of Australia's first shortboard surfing empires isn't based on a real company.
"It's sort of a soup of many different stories," he says.
"It shows if you have a few good minds to it, you can do anything. In Drift, it's two brothers fighting against the odds to make a better life for themselves, and they do it and that's great."
The film also charts the social change happening in Australia during the '60s and '70s outside the world of surfing something Xavier says gives the film a lot of its edge.
"It was a period where people were really swinging their elbows and saying, 'I don't have to conform to this certain way of life'. It's a mad attitude and really fun to capture on screen.
"Especially the character I play, Jimmy.
"Just check it out," he says.
"When you see me on that massive wave, that's actually me!"
Source:
Cairns
Via:
Xavier Samuel News