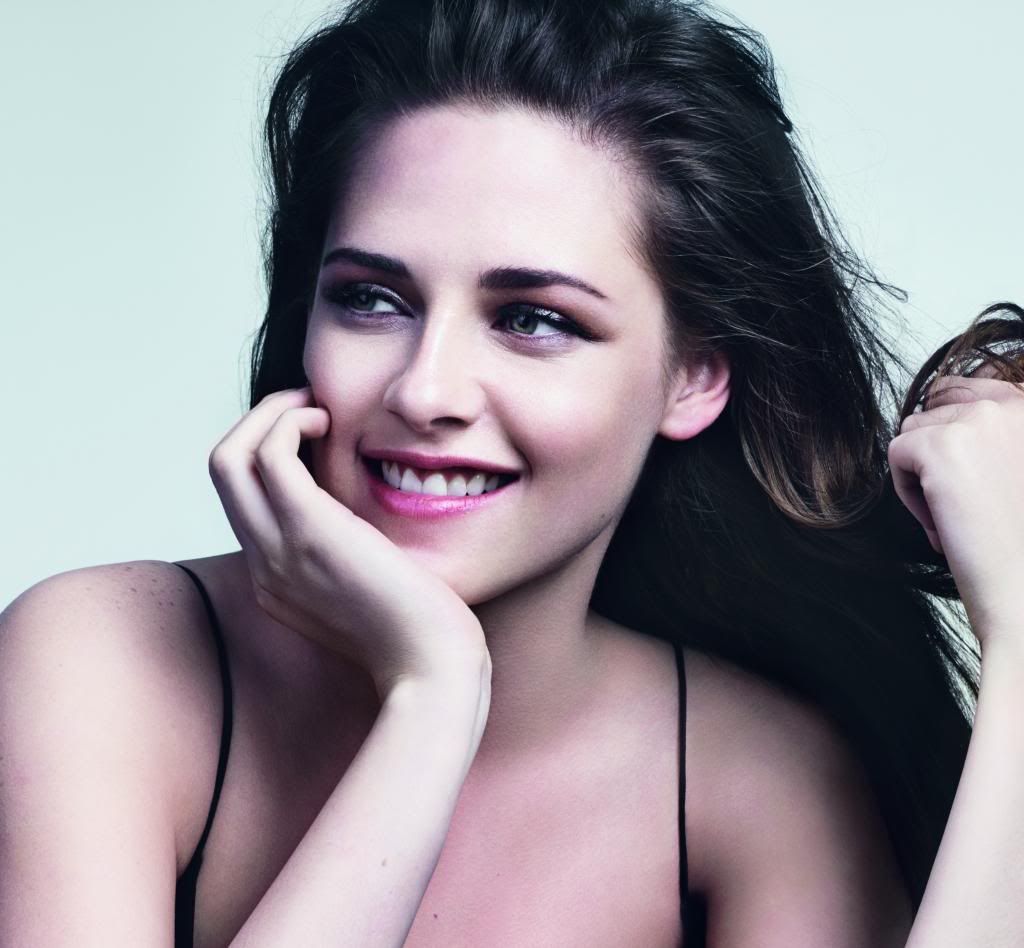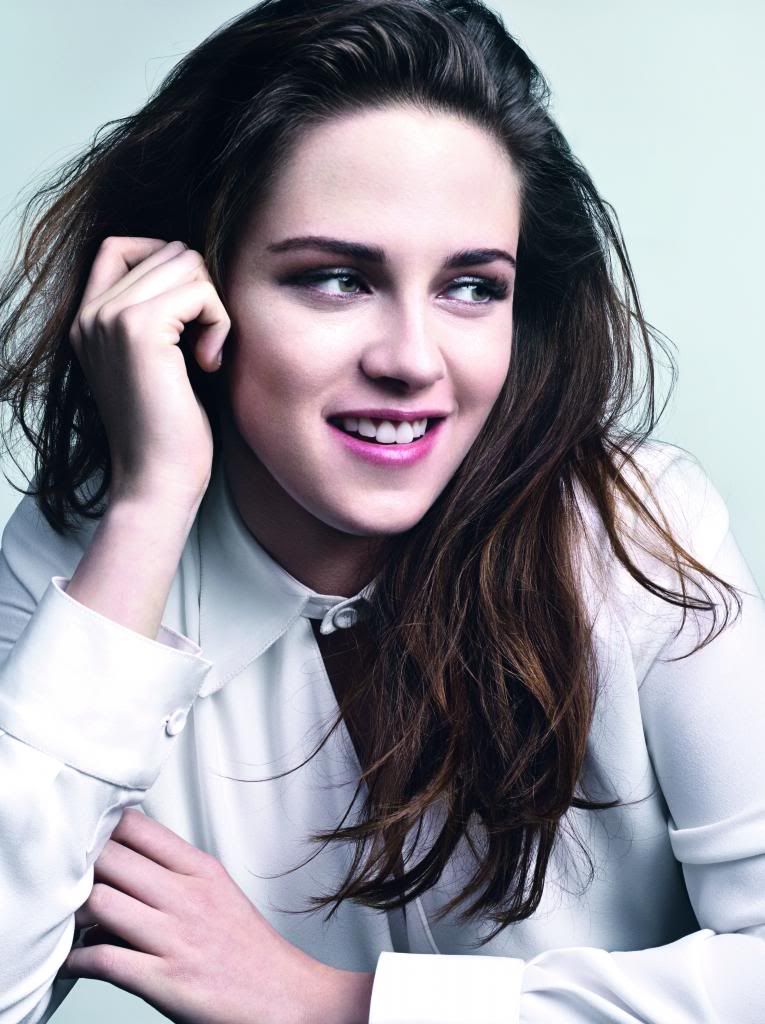 BelaSugar
Kristen Stewart looks like an edgy Disney princess. Sitting across from her at a posh suite decorated with her recent campaign for Balenciaga's Florabotanica fragrance at the Bowery Hotel in NYC, I am taken in by her charisma.
She has creamy (dare I say snowy) white skin that she credits to her lifelong addiction to Proactiv, soulful green eyes outlined with a smudge of smoky eye shadow, and a curvaceous rose-hued mouth. Juxtaposing her delicate features is her enviably naturally beach-textured hair, casually thrown to one side and spilling over her light denim button-down, which she paired with dark denim jeans. If she passed me on the street in a hat, sunglasses, and puffy coat, I would probably mistake her for another petite brunette New Yorker. She's that girl-next-door.
But as I mentioned, she's undeniably charming — as she earnestly answers all my beauty questions, I feel myself rooting for her just as I've rooted for her many famous characters (Bella Swan from Twilight, Snow White from Snow White and the Huntsman, and so on). She's undoubtably an A-list movie star of the young Hollywood set, and being in the spotlight has made her a style icon known for her edgy sartorial choices. With her second Balenciaga campaign under her belt, she is eager to talk all things grooming, including her all-or-nothing attitude toward red lips, the key ingredient to her effortlessly cool mane, and which male celebrity may be inspiring her next hairstyle.
POPSUGAR: You've been the face of Balenciaga for a few seasons now. What draws you back to the house?
Kristen Stewart: Following through with the telling of the whole story — the basis of where the perfume lives. Nicolas [Ghesquière] started with Florabotanica and the idea that girl was traversing this dangerous but beautiful and exotic garden. And she was sort of extracting these scents and becoming herself. And it continued and the story was just awesome and interesting. We always planned on following through with it.
PS: What was it like shooting the new campaign?
KS: It was fun and cool. The imagery that is on my body was physically there. The flowers were all handmade, perfectly formed paper flowers. It was cool to see those in person.
PS: Explain the decision to go topless for it?
KS: It was just about being simple. We had no intention of suggesting that I was completely naked. It was just about making it about the fragrance and the imagery.
PS: How would you describe your beauty look in the ad?
KS: It was taking something clean and making it slightly more mature and a little bit more daring. The first ad was really clean makeup and not much going on. In this one, it's a bit more forward.
PS: Do you have your own perfume-wearing or spritzing technique?
KS: I like two shots right here [points to both sides of her neck] after I take a shower. I like to do one over my clothes, too — it stays on longer.
PS: What does the Balenciaga Rosabotanica fragrance ($52) smell like to you?
KS: Everyone has a slightly different impression of it, but my take on it is that it's a little muskier than Florabotanica ($50), but it feels related. It's a little warmer. You can really pick up the rose. I don't wear much fragrance. I don't have a collection of perfumes, so I am glad to have both of them because they are really very different. This one feels more night, and the other one definitely feels more day.
PS: Every girl is jealous of your natural, beachy hair texture. Describe your hair routine.
KS: I like surf spray. I don't do much. I'm lucky, I don't have to mess around with blowdryers and stuff. I use dry shampoo and surf spray and mess it up as much as I can. To get texture, I basically crunch it up — it's not too difficult to achieve. [Laughs] My hairstyle is sort of messy.
PS: You seem to be drawn to more dramatic eye makeup on the red carpet. Why do you like to play up your eyes?
KS: Typically, I am pretty plain and not too concerned with makeup and stuff. I dress really practically, so when I do red carpet things, I like to go extreme on the other side of it. I really like working with people who love what they do and are a bit more bold. If you're going to do that job, it's always more interesting to find wrists and not people who just want to get it done. It can be fun to find different aspects of myself since it's not usually what I do.
PS: Who are your favorite beauty pros to work with?
KS: I work with Jill Dempsey and Beau Nelson. They are my go-to [makeup artists].
PS: Would you ever try a bold lip for the red carpet?
KS: I like going plain, like a nude lip or a full-on [one]. I don't like anything in between. I don't like doing tints. I like doing a full-on red lip or nothing.
PS: Right now, everyone is going really dark and vampy or rocking purples, like Lorde. Would you be interested in trying those types of trendy lip colors?
KS: I do really like that on other people. It's awesome. I'm really white. I would try it for sure. But I think…who knows…I could change and get crazy. I'm really into red or nothing. I'm kind of strict about that.
PS: What's your favorite red lipstick?
KS: To be honest, Chanel makes really great red lipstick. I can't remember all the shades. but a few are awesome.
PS: Let's talk about that faux undercut you rocked during the Sundance Film Festival. It was such a cool twist!
KS: Aw, thanks dude. I really do like it when people do that — the whole shaved thing looks cool to me. But I didn't want to shave my head, and I also thought it was cool to do a take on it. I had to work all day so I wanted something that would stay. It was literally cornrows.
PS: Would you ever get the It haircut — a short style like a bob or lob?
KS: Yeah, definitely. I have always wanted to get a full-on boy cut. When a girl does it — even if it's a little masculine — it still usually looks like a girl cut. I want to do just a full on boy cut.
PS: Who would be your inspiration for that?
KS: Maybe this is a little lame, but straight-up James Dean. Like old-school. It would be pretty cool.
PS: I bet everyone would copy it if you did it. Do you have a beauty icon?
KS: If you took aspects of Patti Smith and put Bridget Bardot in the mix made it really sexy — that is what I aspire to.
PS: How has your beauty look changed over time, especially since you came into the spotlight?
KS: I've always — with everything — gone with my instincts about things. I can put more stock in my instincts now because I know myself a little bit better. I typically have an easier time finding exactly what I like and what I'm comfortable in. You do it for a couple of years and you know what you gravitate towards.
PS: Do you feel like you have more of a say now?
KS: No…I don't know if people have this idea that you're told to do things and wear things — and maybe some people are — I've been lucky and always worked with really good people. I can definitely take credit for all of the good and the bad (laughs). I have definitely had to wear a lot of dresses.
PS: What goes into your skin-care routine?
KS: I actually use Proactiv. I've used it forever. When I was a teenager and had skin problems, it was awesome and I feel like I am addicted to it now. I feel like if I stop, I will get skin problems again. You see all of these commercials and stuff, and I am definitely an honorary spokesperson. I think it's awesome, and I talk about it a lot.
PS: Which of your past characters aligns most with your own beauty look?
KS: It was fun to play Joan Jett [in The Runaways]. She is a huge style icon — for me, personally, and just in general. That was so specific. But it was fun to step into her shoes because she is so extreme. The most "me" was probably — oh, man — that's the thing, I am really simple. I loved doing On the Road. That's a period piece, and I don't specifically identify with the clothes I was wearing. was more the style in which we wore them, the mood of it. I like thing being a little worn-in. They're all really comfortable in what they're wearing, and they're not really thinking about it, but they love it. That's usually what I go for.
PS: What three beauty products could you not live without?
KS: I honestly wear eyeliner, black mascara, and ChapStick. I mean dry shampoo is sometimes godsend.
PS: Favorite brands?
KS: I typically use stuff that's given to me. Like my makeup artists both have lines, which are great, and I use their eyeliners all the time. One of my favorite ones is from Topshop. It's just great. It lasts and works really well. For dry shampoo, I like Bumble & Bumble Prêt-à-Powder ($26), like the loose powder not the spray. I like the powder, because I feel like I look like I'm going gray when I use the spray.
PS: Do you wash your hair often? Dry shampoo junkies often don't.
KS: Every couple of days but definitely not every day. It's really not good for your hair to wash it every day. I try to not do that, because my hair gets dry really easily. And I work every day so when we treat it, I have to be nice to it…and wow, this was a serious beauty interview [laughs]!.
UHQ: